Over the past few weeks we've discovered the value of staying at home, while desperately missing some of the benefits of daily life before the COVID-19 outbreak. In the "new normal" that we're all trying to navigate, there looms the possibility of another wave of virus concerns in the future. That possibility has changed our behaviors, as we're learning to do more from home than we have before. We're adapting to work, school, lifestyle and social interactions that can be continued without leaving home. In many cases, that includes taking a much closer look at home fitness options.
As businesses begin to re-open, numbers may swell as grateful patrons are able to visit their favorite restaurants, recreation centers and gathering places. However, the days of Coronavirus containment have changed us. Some people are shying away from beloved group spaces due to safety concerns that weren't an issue before, and some are preparing to reinforce or update their home environment "just in case" stay-at-home orders are reinstituted at some future point. Staying safer at home means being healthier, and interest is growing behind creating home fitness environments that are more complete, versatile and functional for everyone in the family.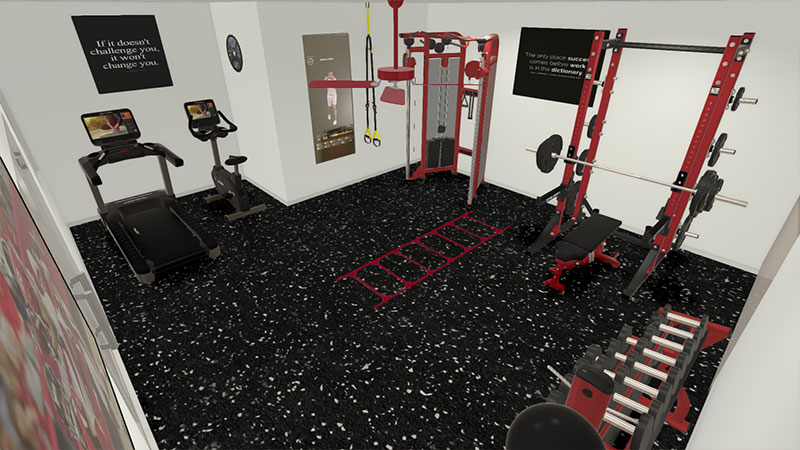 "We're seeing an influx of interest in professionally designed home fitness spaces that have the right equipment for home fitness use – whether you're augmenting your gym and group training, or replacing it with a home-based solution," says Bruce Schlagel, vice president of sales for Advanced Exercise. "Nobody likes being cutoff from their fitness routine or their training regimen, and we're using our considerable expertise in the commercial fitness arena to help residential projects get done, and get done right. It's an area of our business that has a lot of focus right now." From athletes who want to (or need to) continue their training at home, to fitness enthusiasts who want to have access to a fuller fitness routine when they can't go to the gym, Advanced Exercise is fielding more and more inquiries around creating home fitness spaces. It's familiar territory, as large-scale home projects are definitely part of the project portfolio, but interest in more accessible small spaces and functional solutions for more budget-conscious consumers is on the rise.
The fitness design consultants at Advanced Exercise have more than 30 years of specialized consulting in the design of commercial fitness facilities. "Designing a fitness space at home has many similarities to commercial fitness considerations," added Schlagel. "Making sure your space has the cardio and strength options that fit, while allowing you to train in the most efficient manner, that's the overall goal. Each person has a preferred routine or fitness objective, and our focus is to collaborate with each customer to help them address those routines and achieve those objectives in their new environment. In many cases, we suggest variations from the products used in the gym, leaning towards more multi-functional equipment that can give a bigger bang for the space buck."

The team of more than 40 consultants has innumerable products available to equip home spaces, as well as the knowledge of how to maximize the space and the functionality of a home gym. Depending on the fitness preferences, the right mix of cardio and strength for a space can mean sifting through literally thousands of options, not knowing what will fit (and how it will all fit together) until it's too late. Using a professional to help design your home fitness space bypasses those challenges, making the process more convenient and the end result far superior than doing it on your own. Advanced Exercise provides 2D and 3D renderings of the spaces designed by the team, so that clients can literally envision what everything will look like, which allows for changes before everything is finalized.
The consultation is free – which is the same way that Advanced Exercise approaches the design for commercial facilities. "The layout and design space planning process is about building the kind of fitness experience you want," adds Schlagel. "We have access to dozens of top fitness equipment manufacturers and their product lines, and we're able to cut through the confusion and complexity to match the fitness experience with the available space and budget to produce a fitness space at home that you'll be proud to call your own." The convenience factor can't be overstated, as professional teams handle the entire design-through-delivery process, ensuring that the equipment will fit, and that everything will look good together and perform the way you want it to.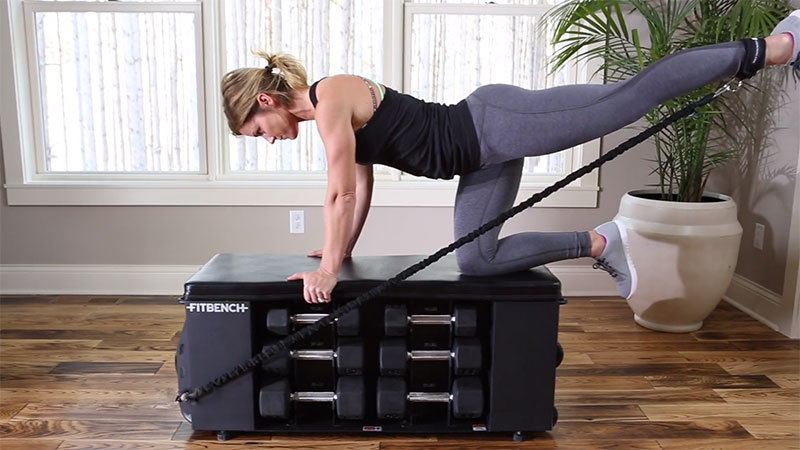 Innovative, space saving products like Fitbench and PowerBlock adjustable dumbbells are popular home options to add to cardio and strength training equipment from top manufacturers including Life Fitness, Tuff Stuff, Spirit, TRX and others. Both the Mirror and Echelon's Reflect option serve the dual purpose of virtual training tool and functional mirror, so you can check your form in the reflection when you're not boxing with your virtual trainer. Body Solid has a host of accessories that are perfect for home use, as well as Troy Barbell, who offers all of the weights, plates, bars and bumpers any home workout enthusiast would need. Some home gyms include a redo on the flooring, if sound dampening or ergonomic improvements are a priority.
There are many more product options to add to the list, but the point is this – professional fitness design consultants know these products inside and out, and they know what each is good for (and conversely, where certain selections may not be the best option). One of the main reasons why professional design experts are helpful for home gyms is the extent of that knowledge, helping cut through the specifics and the jargon and getting down to what you'll want to use long term and how it all fits into your home, so you can enjoy the desired results. Plus, Advanced Exercise has certified technicians that can help maintain the products in a home environment, just like they do in a commercial setting.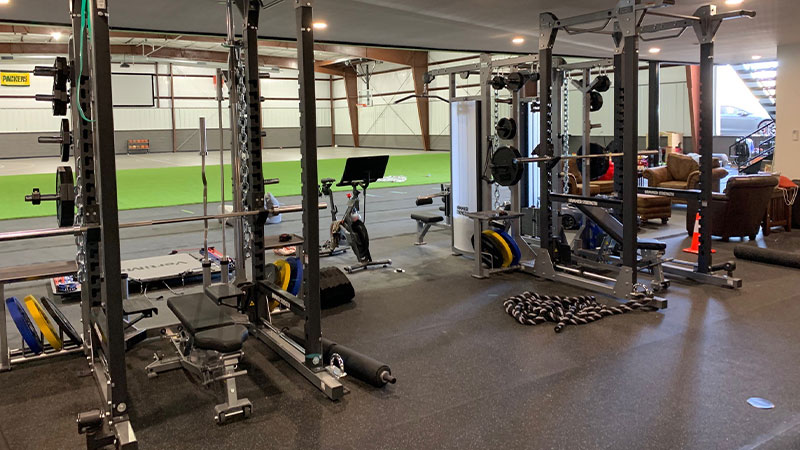 Combining the stress relieving properties of a home fitness workout with relaxation and recovery products is also a popular right now. "Overall wellness is an important consideration for more and more people, and that includes stress relief and recovery fitness, alongside cardio and strength," concluded Schlagel. "Whether it's floor space for yoga, or a massage chair to enjoy post-workout, the options are nearly endless for what you can do to create the fitness and wellness space that works best for you at home."
If you want to explore the options for designing a home fitness space, the Advanced Exercise team can easily help. With unmatched expertise, Advanced Exercise consultants can work with you to create an innovative and inspiring home fitness environment that's perfect just for you.
About Advanced Exercise
Founded in 1986, Advanced Exercise is a leading fitness equipment and facility design resource, combining more than 30 years of design expertise with access to top fitness, wellness and recreation equipment brands to help clients create fitness experiences specific to the needs of their distinct communities. Advanced Exercise fitness consultants work with clients to maximize the use of available space in any facility, sourcing the best new or used equipment solutions for diverse ranges of fitness amenity end users. For more information on fitness equipment and facility design services, visit www.advancedexercise.com or call 800-520-1112 to connect with one of Advanced Exercise's experts.