The most compelling communities, attracting the highest quality tenants, have top-notch amenities – including an updated fitness center. The problem is, new buildings don't stay new forever. So how do you stay competitive when the ground-breaking is long behind you? Strategically updating your fitness and wellness amenities can be the answer.

GOOD BONES
Keeping the character of older buildings even while modernizing the interior is a tricky balance to strike. After purchasing an older building in March 2021, a leading management company in the Dallas metropolitan area enlisted the help of designer Kelly McCarthy and Advanced Exercise's Lori Beall to redo the fitness space completely.

"We wanted the whole to be cohesive, having the exterior drive the design of the aesthetics inside, so that it all works well together," offered McCarthy.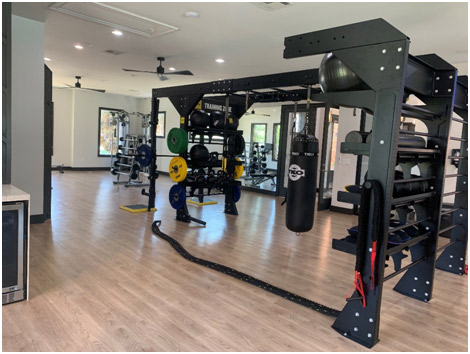 Prior to the renovation, the fitness center was a series of smaller rooms, including an adjacent game room and childcare room. McCarthy said "The rooms were chopped up and the fitness center space was smaller than we wanted for the community's size. The game room was under-used, and the kids' room was dark and closed off. We took out the walls to unite the space and redo it completely. We created a more open concept and brought in a lot more light."

With newly white walls and new floors, the whole fitness center space became light, airy and modern – the exact results that McCarty and the team were going for.

COMMUNITY-DRIVEN DEMAND
"The fitness center was what the community members wanted improved and expanded – we asked them" continues McCarthy, "People couldn't wait for us to get it open!"

Beyond just expanding the space, there was expressed demand for technology integration, and bringing in innovative, new fitness equipment that would make the fitness center more fun, lively, versatile and engaging to use.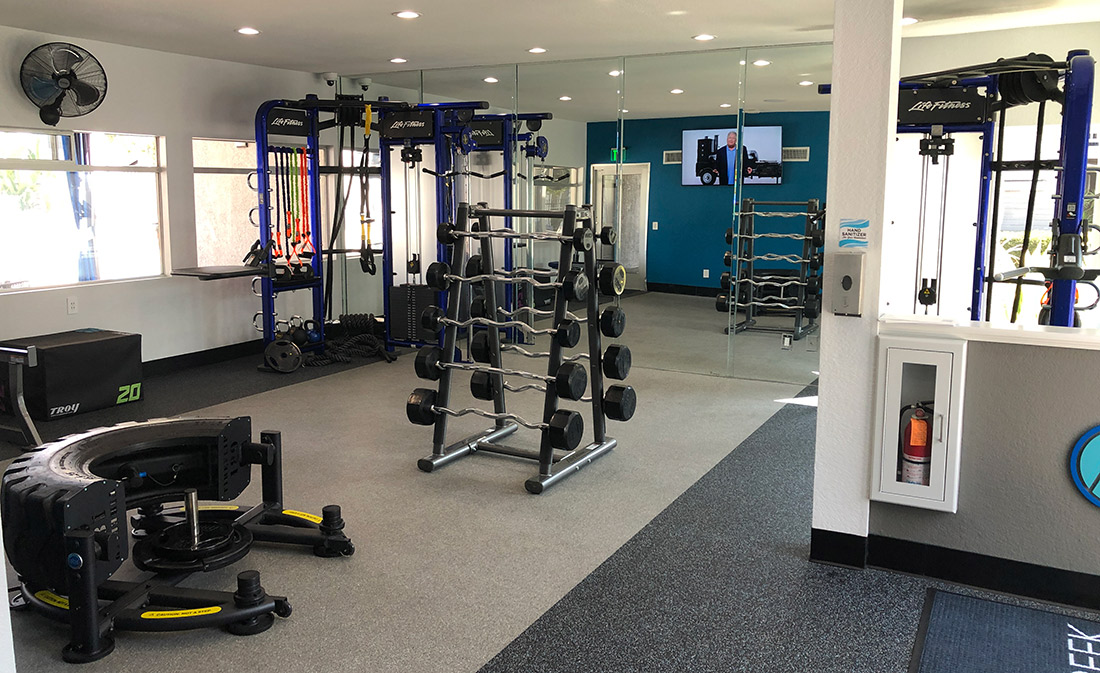 At Aliso Creek in Southern California, they refurbished their two-story fitness center over a series of installations that took nearly three years to complete.

From the flooring on up, the redo of their fitness center included updated commercial fitness equipment, an updated layout to improve the flow and use of the space, technology innovations integrated into the space, and new performance flooring throughout.

INNOVATIVE FITNESS EQUIPMENT CAN MODERNIZE ANY FITNESS DESIGN
Using new, innovative products that people haven't seen before, or reintroducing older classics that are trending again, changing up a fitness center to accommodate newer fitness design trends and innovative fitness equipment is an easy way to refresh the entire space.

Installing interactive fitness mirrors like the Echelon Reflect or The Mirror into a mirror wall makes it easy to access group fitness options for all to see and use. If boxing is big in your community, consider installing a heavy bag or speed bag in a functional fitness space to create options for new workout routines.

Free weights and versatile functional fitness spaces, complete with energy-absorbing fitness flooring, are useful for all types of body weight exercises and functional training. Having multiple stations around the fitness center allows for more people to workout simultaneously, while having plenty of room to train however they choose.

INTEGRATED TECHNOLOGY IN THE FITNESS CENTER
Adding updated cardio options, complete with multiple screens for both fitness tracking and entertainment, are also important ways to upgrade existing fitness spaces without having to start over.

For the community of Lakewood Ranch in Florida, a fitness technology refresh was the solution for their small-space community fitness center. A new building in 2014, it was time to upgrade and switch out cardio options for commercial fitness equipment complete with touchscreens, entertainment apps, and screen-mirroring capabilities to expand the program options tremdously, within the same fitness center footprint.

The addition of spin bikes with flip-screen capabilities, meaning you can turn the screen around to do off-bike exercises, was a clever way to use the same fitness equipment layout to achieve more functionality. A few treadmills and new fitness flooring in addition to the technology upgrade, and the fitness center has new life that will help keep it current for a few more years.

"In many ways, innovative refurbishment of the fitness amenities is the best option for older properties to stay competitive and compelling, especially in growing markets where top leasing properties are fighting for the best tenants," said Bruce Schlagel, vice president of sales for Advanced Exercise. "There are strategic pieces of new commercial fitness equipment that can be added in to bring new energy and interest to the existing fitness center, and that might be all that you need. With fitness center options being one of the most sought-after amenities year-after-year, keeping a community fitness center current can be the difference between a successful property and an average one, regardless of how long the community has been around."

REFRESHING RESULTS
It's astonishing what new paint and flooring can do to visually refresh a space, though the addition of current fitness flooring does much more than improve aesthetics. The energy-absorbing qualities of fitness flooring dampens sound as well as absorbing impact – making new fitness flooring both safer and quieter than older options. Many variations are also anti-microbial, so the cleanliness and hygienic options of fitness flooring can be important when so many users are stretching or exercising on the floor.


Enhancing fitness equipment (and fitness flooring) options and accessories in an existing space can be a simple upgrade that helps keep a popular amenity in shape for community residents to enjoy. Whether it's a complete overhaul, or a few key pieces of fitness equipment to spruce things up, the fitness design and equipment experts at Advanced Exercise can help guide you on the options that best fit your community needs.
About Advanced Exercise
Founded in 1986, Advanced Exercise is a leading fitness equipment and facility design resource, combining more than 30 years of design expertise with access to top fitness, wellness and recreation equipment brands to help clients create fitness experiences specific to the needs of their distinct communities. Advanced Exercise fitness consultants work with clients to maximize the use of available space in any facility, sourcing the best new or used commercial exercise equipment solutions for diverse ranges of fitness amenity end users. For more information on commercial fitness equipment and facility design services, visit www.advancedexercise.com or call 800-520-1112 to connect with one of Advanced Exercise's experts.