Coming out of the fitness industry's biggest equipment showcase of the year, fitness and wellness trends for 2019 are taking an obvious turn towards recovery and rejuvenation options. Cryo therapy and massage options were evident amongst the over 400 exhibitors on the tradeshow floor at the International Health, Racquet & Sportsclub Association (IHRSA) show in San Diego, while several cardio, functional fitness and suspension training trends are staying in strong demand this year.
With thousands of products offered for consideration, here are the top 10 fitness product trends that stood out from the pack for fitness and recreation facilities in 2019:
1. Relaxation and Rejuvenation Options
Bringing a whole new meaning to the term "cool down", liquid nitrogen cryo treatments are finding the mainstream for muscle recovery aimed at the masses. With 3-minute sessions available via self-contained units like those from Cryo Innovations, facilities are finding that staff training oversight and supply chain issues are less complex than they might seem. Plus, the hip and "cool" factor of cryo whole body treatments at reasonable prices compels many interested patrons to try it out, and often come back for more on a regular basis (making the cryo therapy units revenue-generating with sustained use).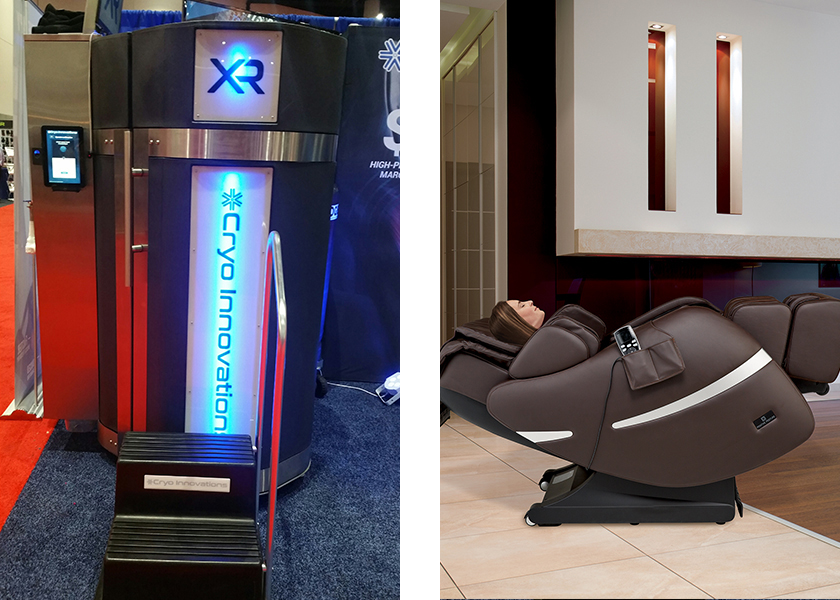 Advancing technologies have also resulted in a wave of massage chair options that have become wellness staples in all kinds of environments. From campus communities and corporate fitness spaces, to recreation and athletic centers across the country, massage chairs and relaxation options are going from compelling to critical for populations who want to extend their fitness and wellness experience beyond the cardio and strength floor.
2. Suspension and Storage
The quintessential group training option, suspension training is easy to offer (via bridges, bays or free-standing units like the Synrgy 180) and users flock to workout comfortably within their own limits, whatever those may be. Suspension training bays, racks and bridges are also finding new use as creative storage solutions. Accessories and fitness equipment are easily placed on the suspension infrastructure, freeing up precious floor space and allowing for a cleaner, clutter-free fitness zone that provides full access to the equipment and makes maximum use of the units.

One of the busiest booths on the floor was TRX, with its signature yellow-and-black straps drawing in dozens upon dozens of people to create their own challenges in the suspension training space.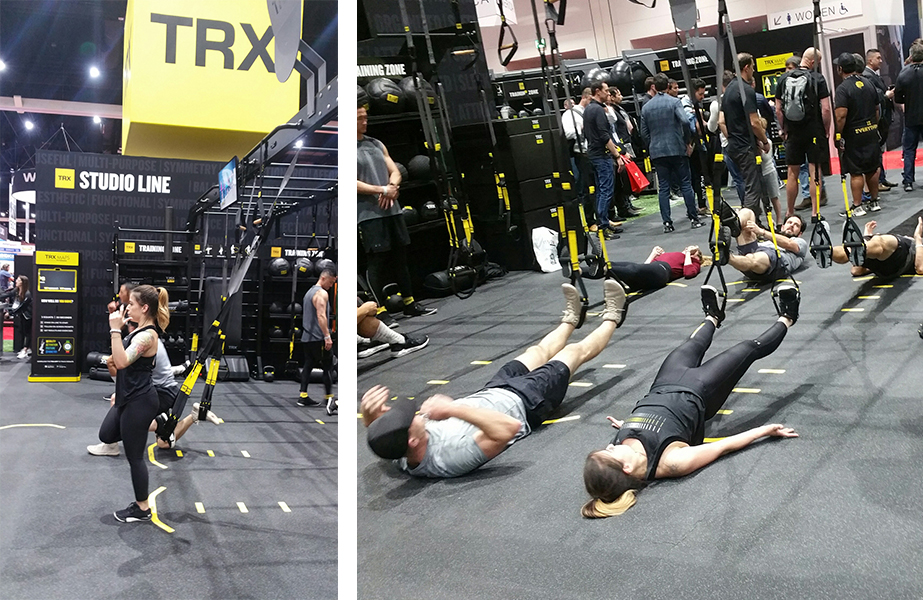 3. SYNRGY360
The Life Fitness Synrgy units are ideal for small group training or for individual users. Each unit is modular, so facilities have nearly limitless options to create the unit that best fits the needs of their community. The modular versatility of the SYNRGY360 units allows for accessories for HIIT training, functional fitness training options, and even creative storage options through the "Suspension and Storage" S2 seen above.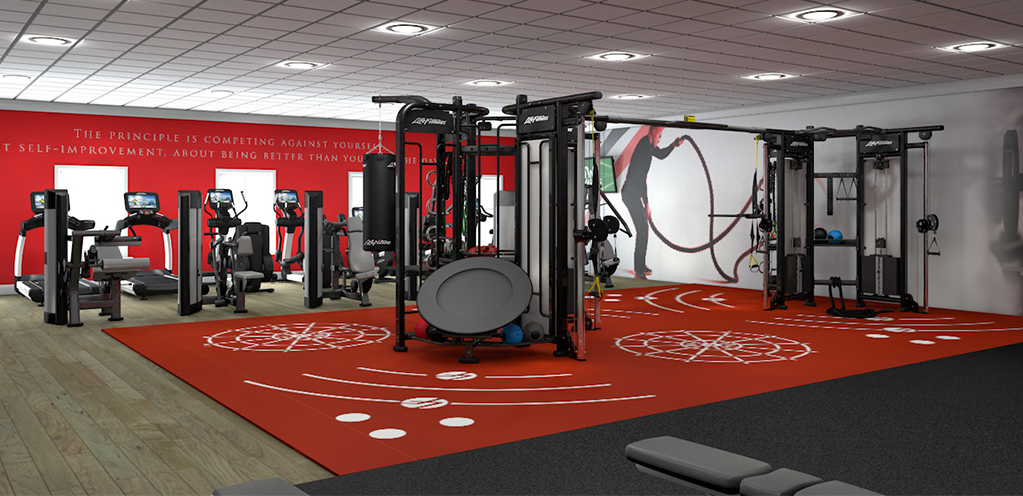 4. Athletic Flooring
Flooring for fitness and recreation spaces needs to be more than tolerable, as it has more to do than just look good. Recognizing that looking good is a priority for design however, the team at ECORE Athletic is stepping up their game with new Performance Collection colors. With multiple new colors in key product lines, performance flooring is not only focused on safety, noise-reduction and ergonomics, but also adding to its aesthetics appeal with the expansion into a host of sophisticated new options. Floor graphics are also becoming both fashionable and functional as training graphics can surround key equipment pieces and serve as a functional piece of "floor equipment", literally.
5. Cool Cardio
Rowers are exploring more creative options with the gaming "pros vs. Joes" offered by Aviron's new-on-the-market rower, and EnergyFit's SkiRow was a fresh take on the combination of skiing and rowing exercises in a single machine. Rounding out the "cool cardio" set is the popular curved treadmill like the SprintRunner, with several models of curved treadmill vying for the lead in the category. LifeFitness had a new performance treadmill on display, encouraging people to anticipate new advancements that are planned for later in the year.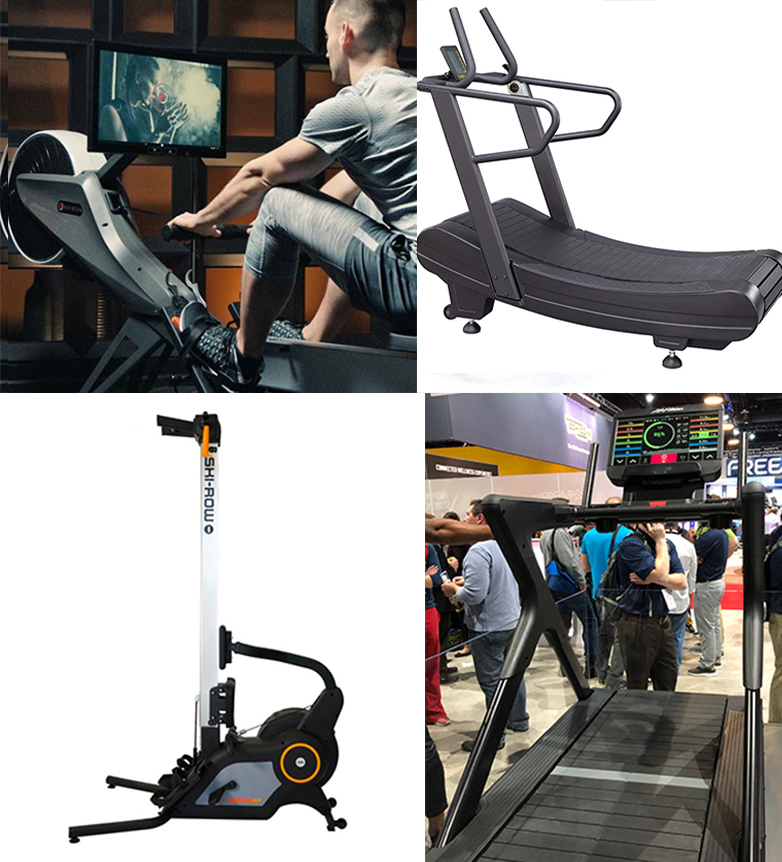 6. Fitness Tire Flips
We've long been fans of the Abs Company Tire Flip as a multi-functional piece, since you can adjust your weight and flip the tire over and over in a confined, controllable way. It's a unique, engaging piece that is always in use! Marpo has a tire equipment option with quick-adjust resistance that you can lift and press, requiring a larger floor space if you like that option.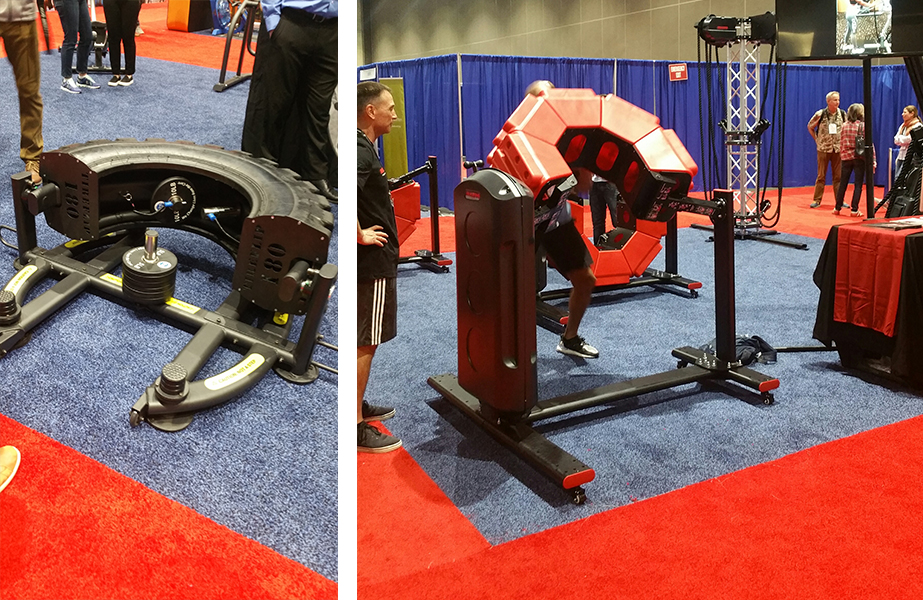 7. FitBench
The versatility of this piece is beyond impressive, as more than 150 distinct exercises are possible with the 46"x17"x20" FitBench. It packs a punch in a small space, holding six premium resistance bands, six dumbbell sets (5, 10, 15, 20, 25 and 30 lbs), two kettlebells (20 and 30 lbs) and one 15 lb slam ball. Anchor points for a battle rope come in handy with this piece too, if you want to add one.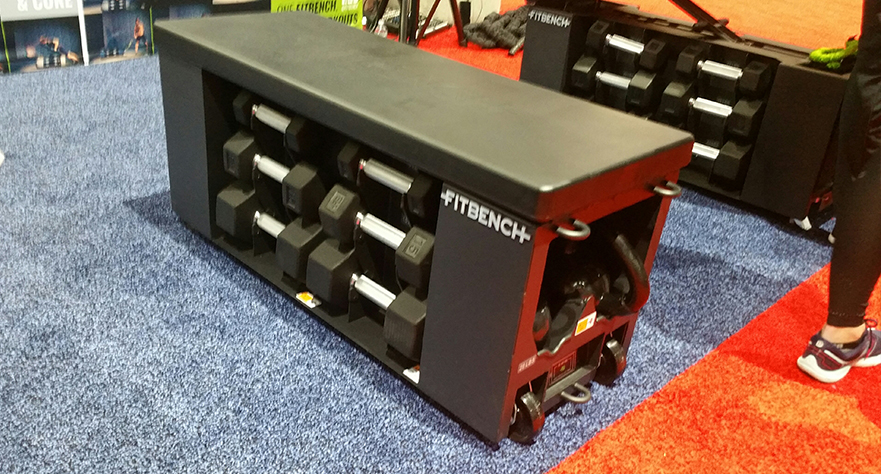 8. Sand Accessories
The team at Hyperwear continues to offer its innovative selection of fitness accessories that use sand for shape and weight-shifting workout tools. The popular sandbells are safer and more versatile than static metal weights. At only 10 feet long, the SandRope battle rope takes up less space than traditional battle ropes while providing a dynamically shifting sand weight workout.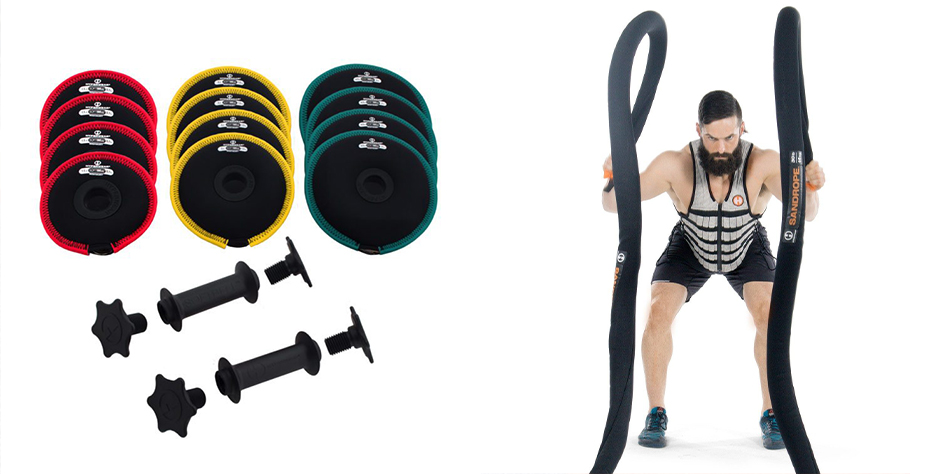 9. Digital Fitness Support
The continuing growth of digital fitness training platforms is tapping into the technological reality of fitness in today's world. Everyone has a screen, and the on-screen experience is a priority. Physical fitness is no exception. App and larger-screen fitness content management and distribution platforms like Functional Solutions are becoming commonplace, especially in un-manned or slimly-staffed fitness facilities.
10. Indoor Performance Cycling
Indoor cycling options continue to evolve with premium bikes like the ICG with the MyRide platform, offering performance feedback and a cycling workout experience that goes beyond the "exertainment" fad ignited by Peloton. The ICG biking experience includes pinpoint performance data, results-oriented virtual coaching, and remarkably scenic riding environments from around the world. ICG even uses a performance zones training matrix called "coach by color" which easily identifies the ideal cycle workout for maximum results.


The vast number of fitness products and innovations can be daunting to navigate, especially when you have space and budget parameters to work within. The Advanced Exercise team stands at the ready to help you with any of the above or an expansive range of other options for fitness facilities of all types. With strong expertise in designing and equipping fitness spaces for any and all interests, Advanced Exercise consultants can help identify, clarify and create those exceptional community qualities that set your offerings apart from the crowd.
About Advanced Exercise
Founded in 1986, Advanced Exercise is a leading fitness equipment and facility design resource, combining more than 30 years of design expertise with access to top fitness, wellness and recreation equipment brands to help clients create fitness experiences specific to the needs of their distinct communities. Advanced Exercise fitness consultants work with clients to maximize the use of available space in any facility, sourcing the best new or used equipment solutions for diverse ranges of fitness amenity end users. For more information on fitness equipment and facility design services, visit advancedexercise.com or call 800-520-1112 to connect with one of Advanced Exercise's experts.