How Design and Fitness Facility Makeovers can make a World of Difference
Transforming a space from one thing to something completely different is a much more detailed process than it might seem. With complex electronics to deal with, precise space requirements for exercising patrons, and industrial strength equipment to manage, you can't simply "rearrange the furniture" like you would in your living room. From campuses and corporations to office complexes and country clubs, creating fitness spaces that seamlessly integrate into the available needs and space is becoming a must-have. From as small as 750 square feet to as large as you can imagine, tenants, customers, students and members are flocking to fitness spaces that are convenient and accessible, just to put some more movement in their routine. Designing and creating these open-use fitness spaces is funneling revenue, goodwill and great returns to those who are thinking "outside the box" and transforming part of their space into a modern hub of well being.
From Water-Damaged Dining Room to Fantastic Fitness Center
When Calabassas Country Club was confronted with a water damage disaster in a dining room, they made a bold decision to redesign the whole space and put in a fitness center. Where tables, chairs, napkins and silverware once resided, now there is a dedicated Cycling Studio, a Pilates Studio and general fitness areas that are continuously bustling with activity.


"The fitness center used to be a small, dark room that was tucked away out of sight," said Erik Hillestad, a Fitness Design Consultant with Advanced Exercise. "To design a new space that would mix their existing equipment with new pieces, and appeal to a much broader clientele, from the older country club members to the younger generations they're trying to attract, we had a complex project on our hands. So we set to work creating 3D layouts to envision the new space and then we brought it to life."
The computer-aided design (CAD) process is a precise and detailed set of renderings to help clients see how equipment, flooring, electrical, walls, etc. all fit within the space available. Adding to that the needs of those who are using the fitness space to be able to move about, to work out and move through the space easily. Then you have to think about lighting, color, the "look and feel" of the space and how it integrates with the rest of the building (and how it will be received and used by customers). The whole process can go through multiple revisions, schedule updates, and meetings with contractors, so many find that having an expert by your side is invaluable.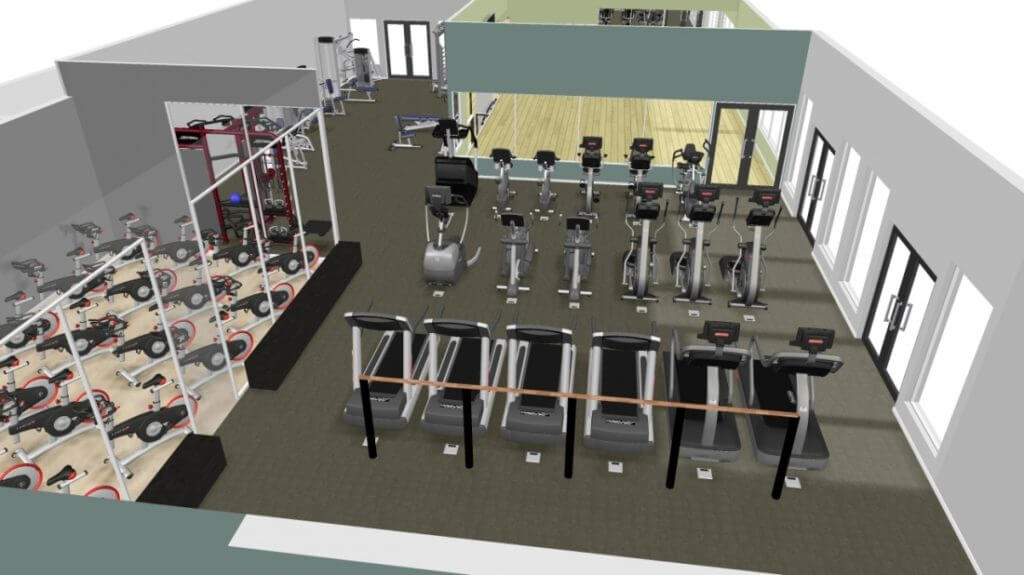 After three or four rounds of drawings and 3D renderings, Calabassas was confidently ready to gut the damaged dining room and get their new fitness center underway. "The design part of the project was key," continued Hillestad. "A Pilates Studio was new for them, so we designed and then showed them how equipment would be placed and which mix of equipment went where, and how people would functionally move through and use the space. Those precise details make a big difference when you're making changes like this."


At the conclusion of the project, Calabassas proudly points to the finished product. It is a marketing draw for potential new members, and a whole new set of amenities and activities for existing members. The transformation from water damage catastrophe to completely modern wellness space has been positive all the way around.
Maximizing Small Spaces for Big Returns
Sometimes you don't have large spaces to work with when you're looking to create something new. At Havenwood Office Park in Texas, the fitness space was being planned and placed before all of the space was leased. When a tenant came in and wanted that space for their own, a full redesign to a smaller space was necessary.
"You don't have to have a large fitness facility to cater to a wide range of tastes and needs," said Vaughn Marxhausen, one of Advanced Exercise's Texas representatives. "We created innovative spaces for countless workout options, from cardio to free-weights and functional training, all within 750 square feet."
After working the new design through several different possibilities, the best fit for the equipment and the available space was decided on, and construction began.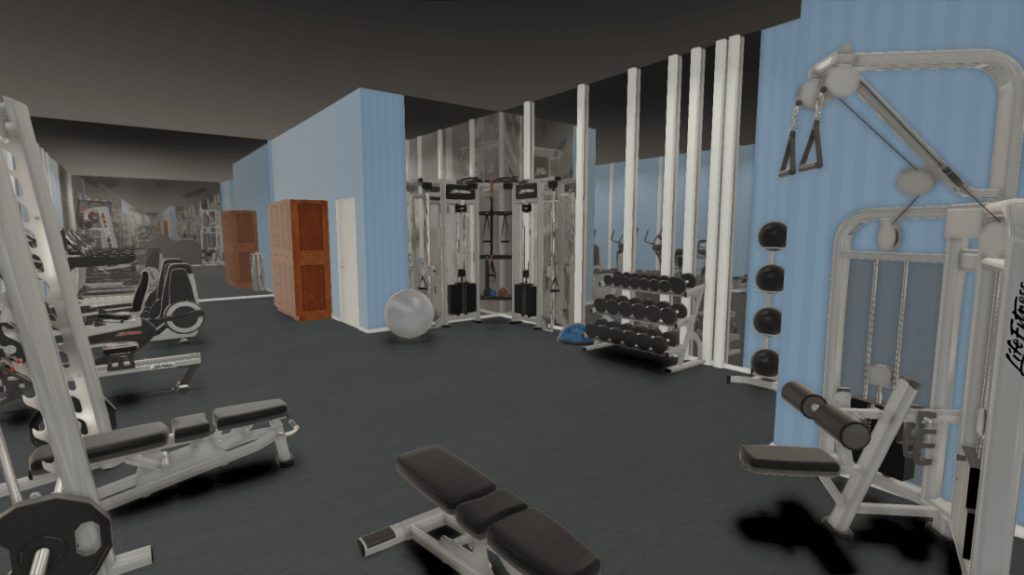 As with other projects, the Advanced Exercise fitness experts are called upon to input to electrical, cabling, colors, and even lighting, working with architects and general contractors to get every detail just right. "We were able to bring our experience to the project and to many decisions along the way," continued Marxhausen. "Open ceiling or closed ceiling, paint it black or paint it white…there are so many details and all of them matter to get the right end result."
How everything works and flows together is also taken into consideration, so that the space is as usable as possible. If the closed ceiling means people standing on the treadmills bang their heads on light fixtures, that's a problem. Precisely designing and envisioning the space and its uses ahead of time, with experts who have broad knowledge of similar projects, can save a lot of headaches down the road.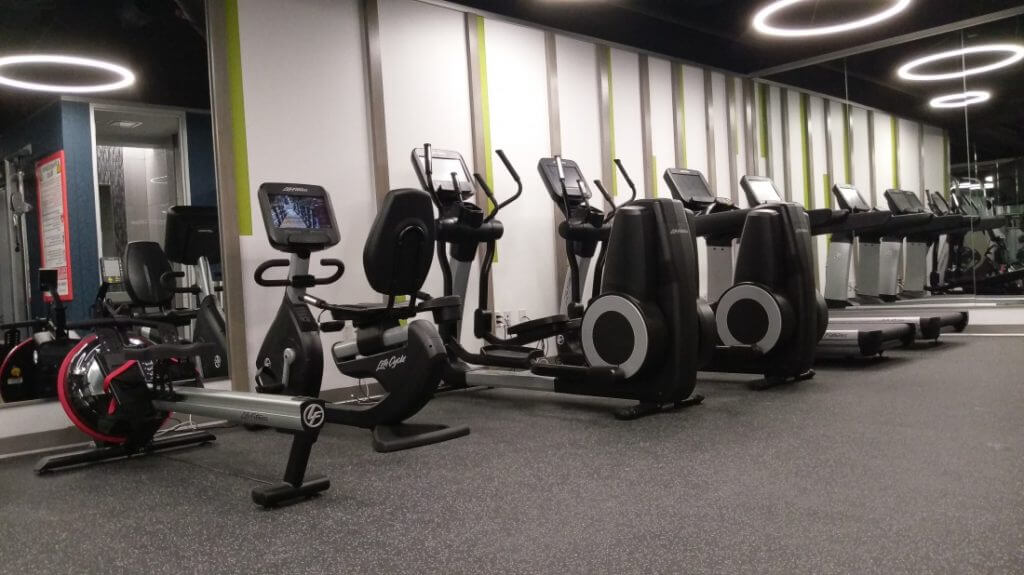 Versatility is the name of the game in smaller spaces. That meant multi-functional pieces over equipment that can cater to many different needs. That versatility extended to the types of tenants the building wanted to attract. The desired tenants were much more attracted to functional fitness pieces that are quick and easy to use, versus a free-weight space or hard core gym environment.
"It's becoming the norm for Class A buildings to be thinking about fitness spaces, but the expectation seems to be that you need 20,000 square feet and a really deep budget," adds Marxhausen. "This project shows you can provide a big return on investment for tenants who want to lease with you. It's a great attraction and retention point, even though it's small."
Trusted Resources Create Results Beyond Expectations
At Benedictine College in Kansas, they had a blank slate when it came to designing and building a Student Recreation Center on campus. As with others, they needed to serve a much wider community than just students, as faculty and local retirees would all be welcome to use the facility. The experts at Advanced Exercise were brought in to help create a new recreation space that would cater to everyone, and they knocked it out of the park.
"I couldn't be happier with how everything turned out," says Pecos Miller, Director of Recreational Services for Benedictine College. "The amount of usage speaks for itself. Whether it's 7:00 AM or 11:00 PM, there's always activity here."
Miller admits to being spoiled, as the new Student Recreation Center serves students who are 18 years old to retirees in their 70s with a range of different equipment that can suit any need: strength equipment, free weights, cardio, functional fitness, etc.
"It impresses everyone," continues Miller.
Jeff Paxton, the Advanced Exercise expert who worked on the year-long Benedictine project proudly says "We took care of it and they didn't have to stress over it."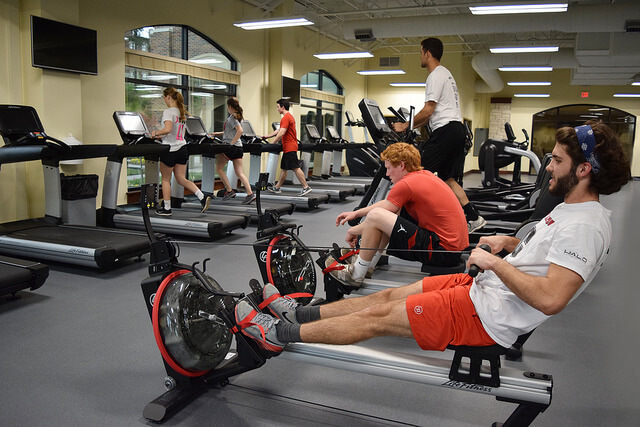 After a presentation to a group of influencers, donors, faculty and students, there were some changes that directly reflected the feedback from the Benedictine community and Miller couldn't contain his enthusiasm for the result. "I have nothing but good things to say. The process seemed like it went by really fast, and we were anxious to get in the space and get open as quickly as we could. It's been hopping ever since." He reminisced about what campus life was like before the transformation by observing "How different this past year has been. It's hard to remember the days when we didn't have this amazing facility. There is no comparison to what we had before. This whole area has now become the heart of the campus. From a health and wellness perspective, it's been awesome. People just congregate here."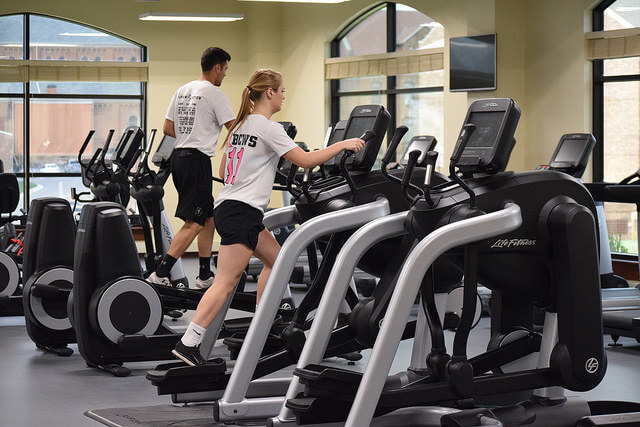 "The only thing I would do differently," concludes Miller, "is I would make it bigger."
________________________________________
About Advanced Exercise
Founded in 1986, Advanced Exercise is a leading fitness equipment and facility design resource, representing more than 30 equipment brands to bring clients the best new or used equipment solutions to maximize the use of available space and meet the needs of a diverse community of fitness amenity end users. For more information on fitness equipment and facility design services, visit www.advancedexercise.com or call 800-520-1112 to connect with one of Advanced Exercise's experts.