There's serious marketplace and social proof that video games are addicting, amassing more than $43 billion in video game sales this year alone. With over 164 million adults in the United States playing video games and three-quarters of all households containing at least one gamer, the art of gamification is being injected into numerous other applications, hoping to produce a fraction of the same engagement.
By introducing competition, points, achievement, rules of play and self-status elevation opportunities, gamification has become a key part of digital experiences from eLearning to loyalty purchasing programs. Using those same components, gamification is a natural integration tool for the fitness industry. Creating fantasy workout environments, using virtual reality and creating digital competitive opportunities never before possible has made workouts more fun, engaging and motivational, and fitness equipment is serving it up.
With the new Aviron Tough Series rowers, you can row, Valkyrie-style, across the sky and over the top of castle turrets with Pegasus wings powering your progress, and you can watch it all on a 22" high definition touch screen as you get your daily workout in.
The Aviron rower menu looks more like an XBOX set of options, but that's exactly the point. Innovative fitness equipment manufacturers are using gaming approaches to get more people engaged in fitness, and to keep them excited and motivated to keep coming back for more.
Game components are helping fitness enthusiasts compete against world-class athletes using programs like Aviron's "Pros vs. Joes", and also encouraging newbies or less fit audiences to join in the fun. "Lots of people enjoy playing games, but few genuinely like to exercise. Adding a gaming component to fitness is exciting to me because it's shown to help some people be more active simply because they like to play games. If that is what motivates them to be active, more power to them."
The drive to create fitness applications that are as addicting or entertaining as video games is causing a myriad of new options to not only become available with fitness equipment, but also to continue to expand with additional game-infused programming and competitions that keep the experience fresh.
Life Fitness' ICG with MyRide is one example of a leading fitness brand that is building entire virtual environments to keep riders motivated when they're burning calories and building strength. You can have your own avatar and pedal the alps, or enjoy passing other riders in your pursuit of a position at the front of the pack, all from the comfort and convenience of your local fitness center.
Life Fitness built video-based instruction directly into the handlebar of the IC5, IC6 and IC7, making it finger-tip easy to change your riding experience, track your data, get some expert coaching guidance, and explore jaw-dropping landscapes from across the globe.
"Underlying the concept of gamification is motivation," and there's an obvious connection between motivation and competition. The combination fuels both fitness and athleticism, and it's spawning a digital awakening in fitness and training technologies.
"Gamification works in combination with sports and fitness because sports are based around motivation to reach a goal and get a reward, while staying fit is something people struggle to find the motivation to do."
Fitness brands have found that participants enjoy the ease and enjoyment catching and passing fellow riders on a realistic or fanciful digital path than they do in the real world when other factors and distractions need to be taken into consideration. In the gaming space, the rules are fixed and the goals direct.
As far as digitally-enhanced fitness training goes, one of the first and now the most advanced applications for gaming can be found in golf simulators. The leader in the market, TruGolf, uses a three-camera system to capture the movement of the player (the ball, and the club too) and connect it directly into a digital course on a true-to-life sized screen. The result is an accurate depiction of the technique and shots taken, leading to the ability to virtually coach the player as well.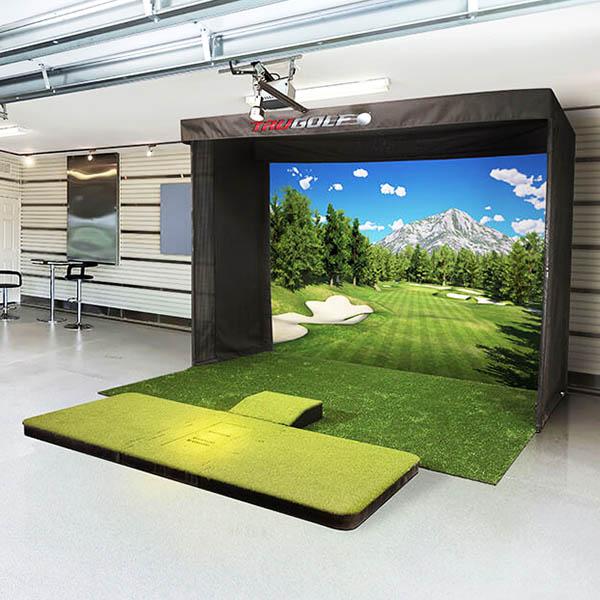 The TruGolf team combined the expertise of engineers, business owners and PGA professionals to develop its high speed camera system, which captures club head and ball data at 3200 feet per second. It's not possible to capture training data like that out on the actual golf course, no matter how many rounds you play.
With the digital screen technology being deployed in the fitness arena today, combined with the entertaining gaming approach that leading products are employing, fitness centers across the country are filling up with participants who come back more often and stay longer to enjoy the experience.
If you want to include some game-inspired fitness options in your fitness space, the Advanced Exercise team can easily help. With strong expertise in designing and equipping fitness spaces working with any community needs, budget, and product mix expectations, Advanced Exercise consultants can help create an innovative, digitally inclusive and inspired fitness environment.
About Advanced Exercise
Founded in 1986, Advanced Exercise is a leading fitness equipment and facility design resource, combining more than 30 years of design expertise with access to top fitness, wellness and recreation equipment brands to help clients create fitness experiences specific to the needs of their distinct communities. Advanced Exercise fitness consultants work with clients to maximize the use of available space in any facility, sourcing the best new or used equipment solutions for diverse ranges of fitness amenity end users. For more information on fitness equipment and facility design services, visit advancedexercise.com or call 800-520-1112 to connect with one of Advanced Exercise's experts.