You've seen it in the wee hours before your local 5K starts, coaches and athletes at the Olympics are obsessed with it, yoga instructors guide you through it, and it happens continuously on the sidelines of major competitions. It is stretching.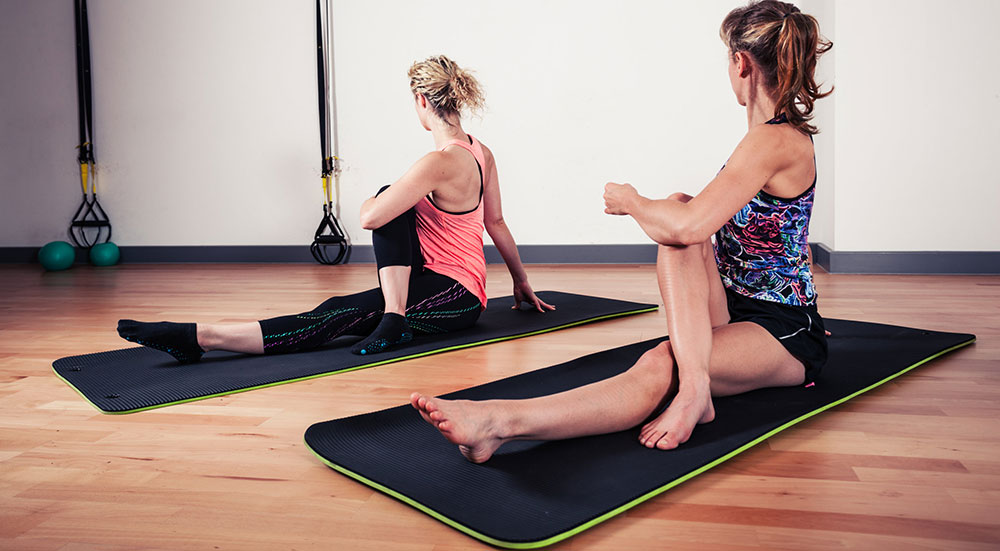 Stretching before and after a fitness activity is important for not only a successful physical performance, but also for the muscle and tendon recovery that takes place after that physical activity. Creating stretching routines for before and after a workout decreases physical pain, helps prevent injury, and eases stress, and fitness facilities across the country are paying more and more attention to this often overlooked exercise set.
Whether you are going for a run on a treadmill or getting ready to try that new strength training routine, a good pre and post stretching routine should be viewed as essential. As the benefits and necessity of stretching become more familiar, fitness facilities are starting to incorporate designated stretching areas within the fitness spaces and providing many new innovative equipment options to ensure that exercisers are ready for (and can safely recover from) any workout.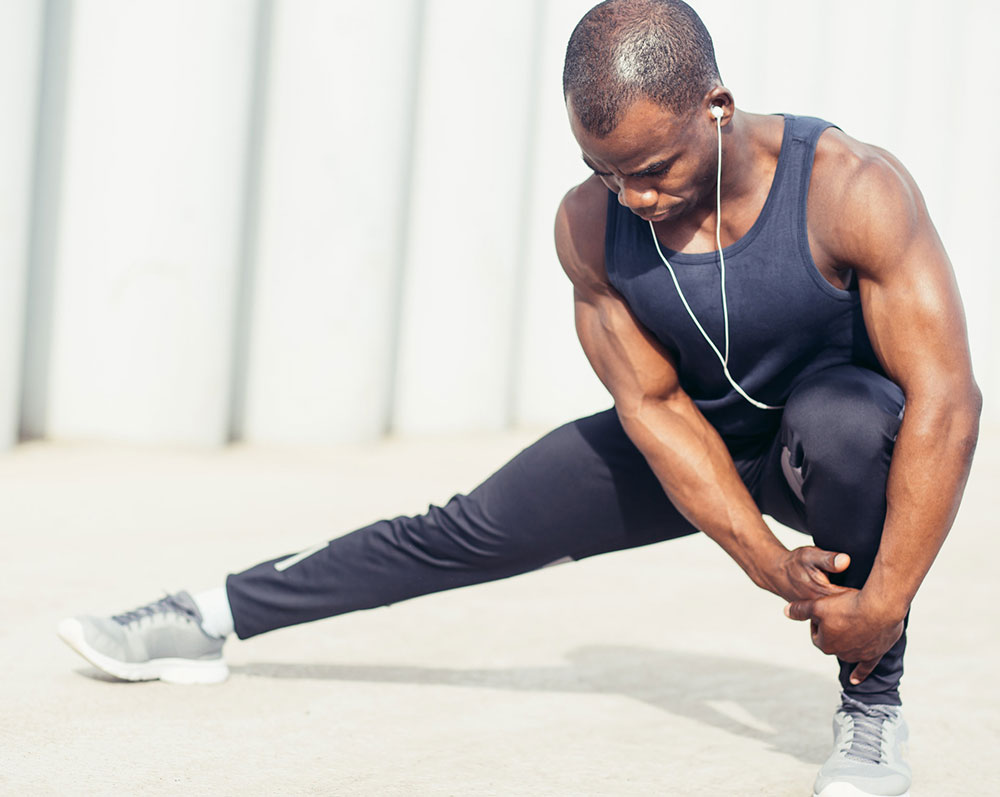 Stretching Is Key for Certain Sports
As you might imagine, stretching is vital for warming up muscle groups (and training those muscle groups) to handle certain specific, repetitive movements like golf swings, swimming strokes, tennis serves, basketball vertical jumps among other things.
The TRUE Stretch trainer, affectionately referred to as "the cage" by many users, is a favorite tool for helping golfers, tennis players and other sport enthusiasts follow stretching routines to increase flexibility and improve overall performance in a well-rounded way.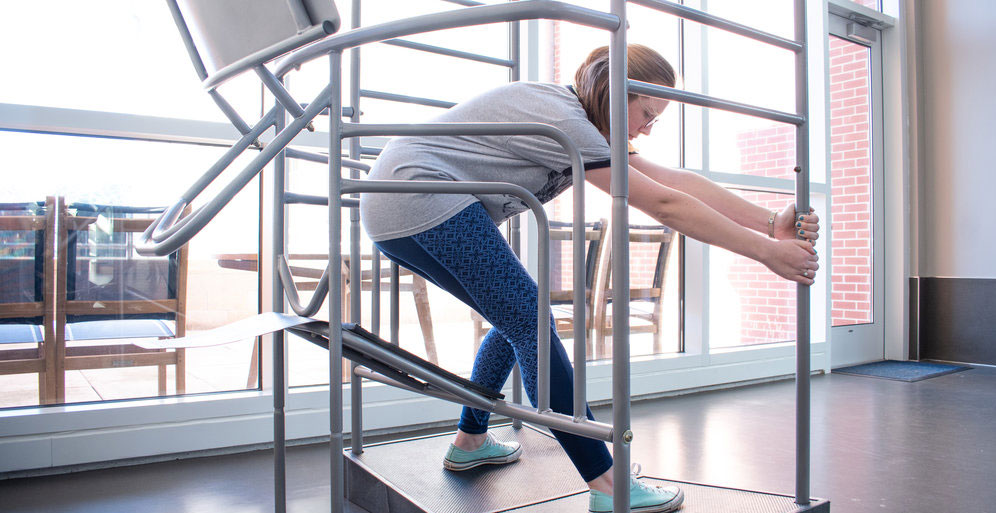 Using the TRUE Stretch to stretch hamstrings, shoulders, core, arms, wrists, and even low back muscles, fitness facilities are starting to find stretching equipment nearly as popular as specialty cardio and suspension training options.




"Stretching is an important part of all fitness routines and while many use body weight exercises to stretch around workouts, many guided stretch training tools are becoming popular options in fitness centers of all kinds," says Bruce Schlagel, Vice President of Sales at Advanced Exercise. "Golfers love the TRUE Stretch as it helps them stay limber, resulting in a better rotation and more fluid golf swing. We've seen it used for all kinds of flexibility, range-of-motion, balance, rehabilitation, and functional fitness exercises. Stretching is like hydration. You need to do it, and do it properly, to stay fit and healthy."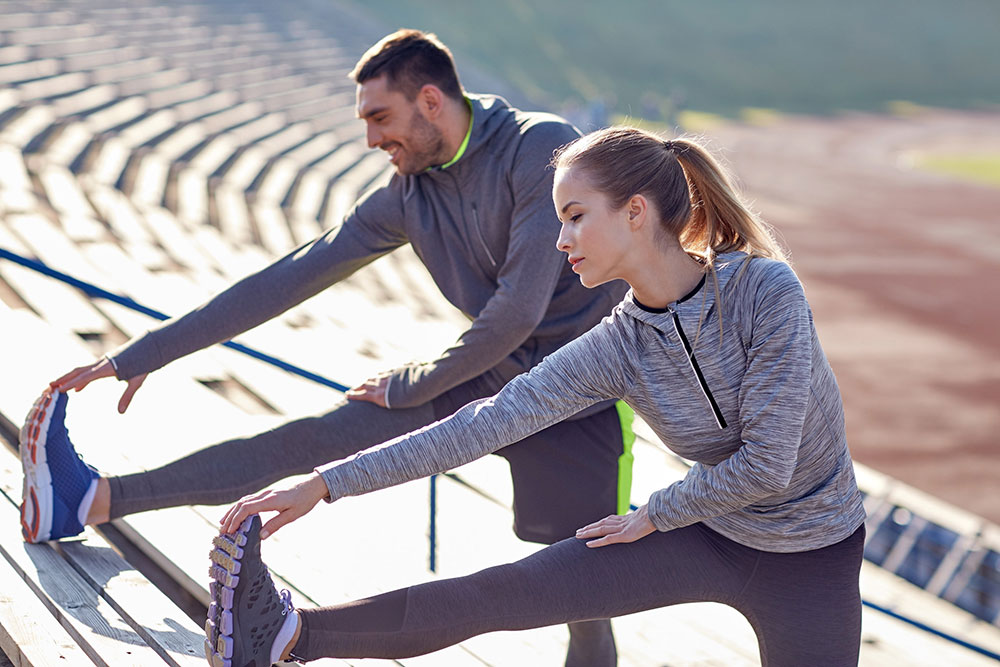 Flexibility Is Part of Fitness
Flexibility trainers are also valuable tools for a variety of stretching exercises. Machines like Life Fitness's Flex Trainer supports the correct position for stretching and allows users to safely stretch major muscle groups, offering a large range of motion that accommodates various levels of physical flexibility.




As with other stretching tools, the Flex Trainer can be used to increase range of motion, help prevent muscle and joint strains, reduce the risk of back problems, prepare their bodies for intense exercises, improve circulation, and reduce muscle soreness. It also supports dynamic stretches (movements that stretch your muscles but are not held for a certain amount of time) as well as static stretches (which are stretch positions that are held for 10 to 30 seconds and are completed after exercising).
Warm Up and Recovery
Percussive Therapy Accessories are commonplace in fitness spaces for workout or training recovery – specifically to increase blood flow to muscles and assist with physical muscle relaxation and recovery. Massage guns like the Theragun or PowerPlate Pulse are relatively inexpensive, can be purchased in bulk for multiple users, and are sought-after items for fitness center visitors needing to loosen, warm up, or cool down muscles. These products are easy and safe to use, and easy to clean between uses for facilities that outfit larger groups of exercisers.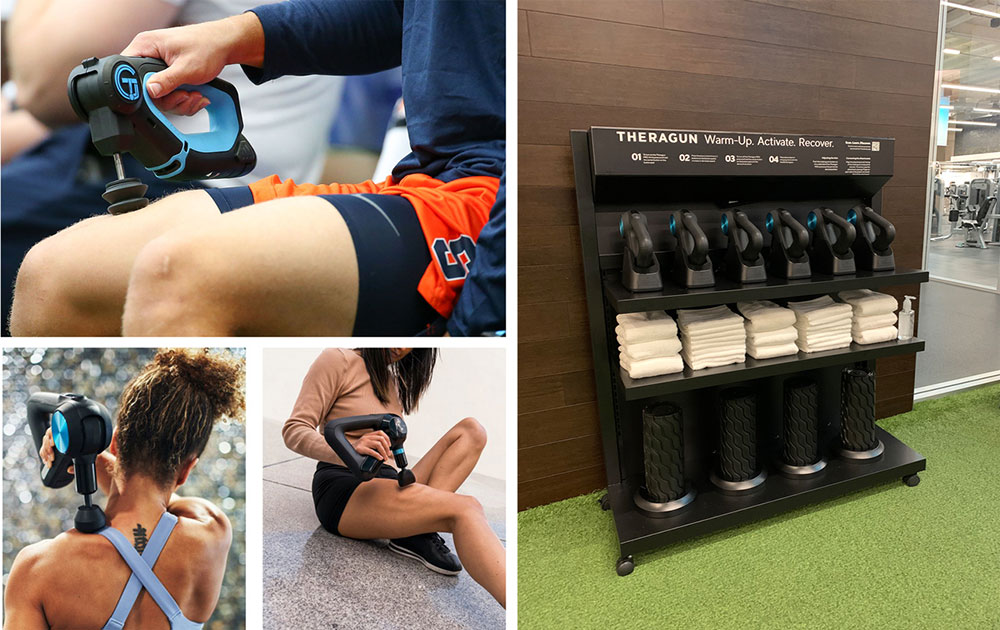 "Products like the Theragun historically would only be found in training rooms for serious athletes, but today they're becoming a staple in many fitness centers as members are becoming more experienced in how to warm up their bodies for and recover from training routines," continues Schlagel. The Theragun cart includes six wireless charged Theraguns and four Theragun wave rollers, all in a self-contained cart that is ready to assist users before, during, and after workouts. "This is a great product that we are starting to see all types of clients use in their fitness spaces including apartment communities, country clubs, corporate wellness centers and of course athletics," he added.
Teams use these accessories to help athletes maintain lower pain levels after a workout, keeping muscles loose and blood circulating. For non-athletes the benefits are similar, and everyone who uses the fitness facilities are eager to try out a massage gun and then find that they use it regularly to help warm up, help stay injury-free, and speed muscle recovery.
Stretching Tables
Elevated stretching tables are becoming an increasingly popular item in many fitness centers as well, allowing for a wide variety of mobility, balance, and range-of-motion stretches that don't require participants to get all the way down on the ground (and back up again). These padded tables typically offer a 4' x 7' or 6' x 6' padded surface that sits about 18 inches off the ground.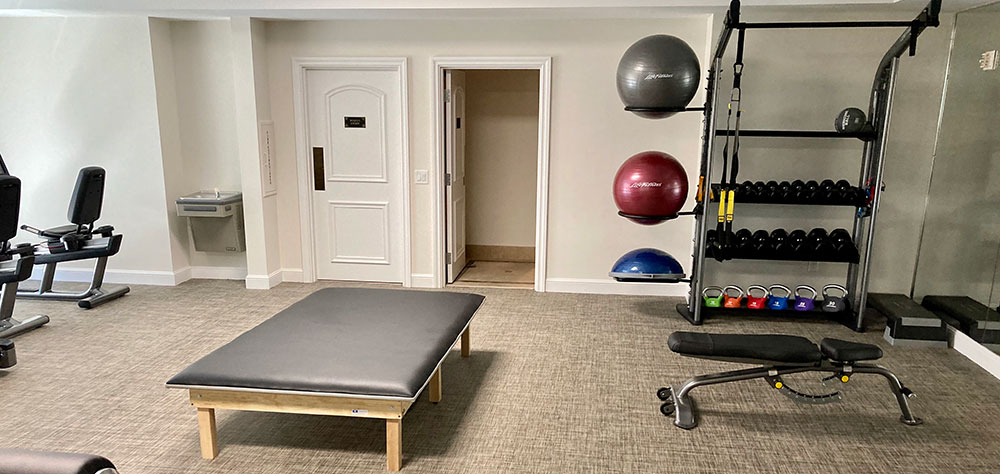 For communities with an increasingly active older population, elevated stretching tables are a great way to engage this population without taxing joints or creating challenges for less mobile participants.
Mike Howard, a fitness design consultant with Advanced Exercise who works with many 55+ and active aging communities in Florida, says, "Stretching tables provide a firm, supportive surface for stretching joints and ligaments without requiring someone to get all the way down on the floor. The surface is padded but not soft, so it doesn't give much, but participants can stretch back and leg muscles effectively and thoroughly without using the floor, and this helps with older exercisers or those with injuries who might find getting down to and up from the floor a bit risky."
Stretching tables also allow for gravity to help with the muscle stretch, as relaxing to have shoulders, elbows or ankles dangle off the table's edges can provide a static or dynamic stretch to lessen tension in key parts of the body.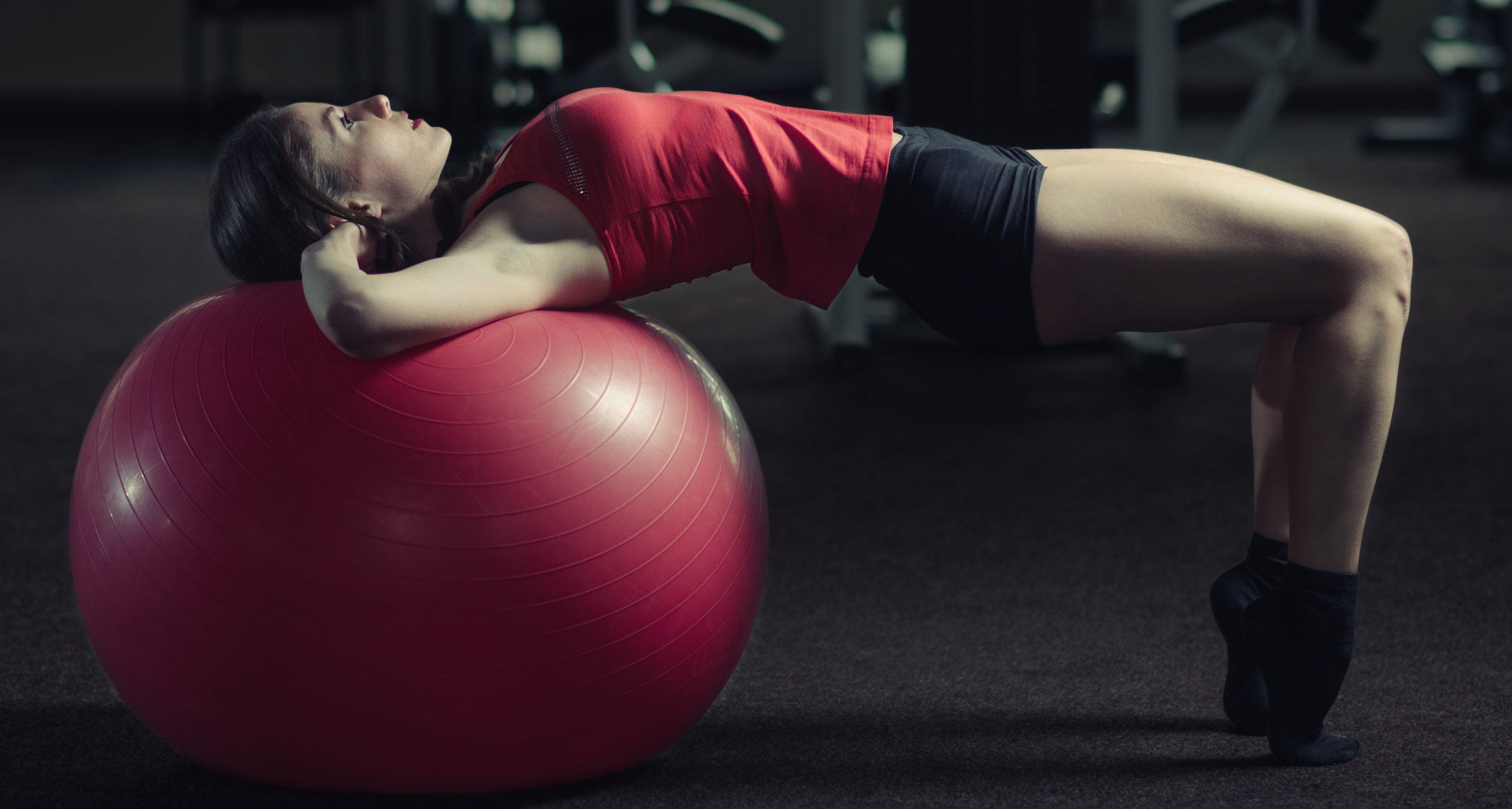 One of the main reasons for stretching is injury prevention. Stretching improperly or skipping stretching all together can increase your chances at becoming injured during an exercise routine or an athletic event, not to mention leaving you feeling physically worse during and after a workout. Whether using body weight stretches on the floor, using specialty stretch and flexibility equipment, or accessories that help keep muscles in shape, fitness participants are starting to expect that stretching options are available and accessible as a priority.
Stretching and flexibility enhancing equipment options and accessories are wide-ranging and, as with any piece of exercise equipment, cautions abound on making sure that users are using correct form across the board. The equipment experts at Advanced Exercise can help guide you on stretching accessories and equipment options that best fit your community needs, encompassing all levels of fitness and ability.
About Advanced Exercise
Founded in 1986, Advanced Exercise is a leading fitness equipment and facility design resource, combining more than 30 years of design expertise with access to top fitness, wellness and recreation equipment brands to help clients create fitness experiences specific to the needs of their distinct communities. Advanced Exercise fitness consultants work with clients to maximize the use of available space in any facility, sourcing the best new or used equipment solutions for diverse ranges of fitness amenity end users. For more information on fitness equipment and facility design services, visit www.advancedexercise.com or call 800-520-1112 to connect with one of Advanced Exercise's experts.