In sub-zero winter temperatures, you wouldn't think that people would be flocking to an ice arena every day on purpose. But you'd be wrong. In Provo Utah at the Peaks Ice Arena, they have a new functional fitness space right next to Olympic hockey ice sheets and it's a community hot spot. Using open floor space for functional fitness, weight lifting and suspension training options, and even some turf training, Peaks Ice Arena has combined fitness and recreation elements to meet a broad spectrum of needs for 25,000+ community members who love them for it.
Keeping Options Open
"The beauty of a facility like this is that we have been able to keep it really customizable to what people are looking for," says Bryce Merrill, the Peaks Recreation Center Manager for Provo Parks and Recreation. "We put a premium on open space and the ability for people to pick the type of workout that they want, and with the turf area where people work on speed and agility drills and the full rig we were able to basically check all the boxes for the different types of lifting and functional fitness workouts that people were looking for."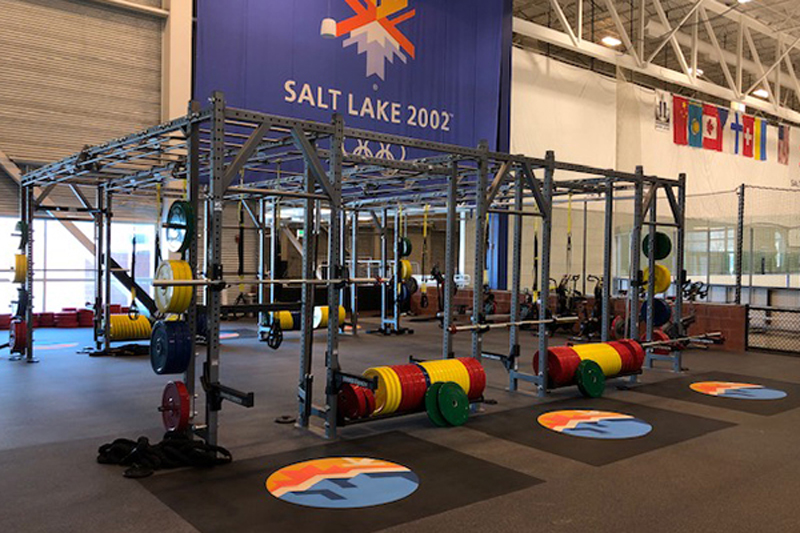 Merrill and the team at Provo Parks and Recreation wanted to tap into key fitness trends to create a custom experience that capitalized on popular programs, but specifically fit the needs of a young family population with accompanying school sports programs. "Checking all the boxes" meant group fitness, functional and body weight training options, technology integration, and HIIT (High Intensity Interval Training) were priorities, with two college campuses, a growing recreational youth sports market, stay-at-home moms and a diverse variety of other fitness enthusiasts to serve.
"HIIT has taken the country by storm as people try to squeeze in an effective workout among 1,000 other obligations," topping the charts as one of the nation's most popular fitness programs. Participants can spend less time at higher intensities to maintain basic fitness levels, and though they might spend less time per session, they come visit more frequently when it fits into a jam-packed schedule.
"We wanted to build a facility that would keep us competitive in the market and help us keep offering fresh and new fitness solutions for our members," continued Merrill. "With this opportunity we felt that we could add a whole different approach to meeting the fitness needs of a wider variety of people, maybe those patrons and residents who weren't looking for a group exercise or a dance-based format solution for their workout. What we've loved here is we've been able to work with some of our hockey teams, and soccer teams in the youth sports area, as well as a couple of our collegiate club sports programs to have a space that can meet the needs of athletes, while still offering programming that is going to work for a 9 AM fitness class for stay-at-home moms and really all of our patrons along the spectrum."

Begin with the End In Mind
Proud of the pre-planning success of the Peaks project, Merrill mentioned the importance of starting the project with a plan. "We identified a couple of objectives at the beginning of this design process that we wanted to make sure the new space accomplished. The first one was recognizing the trends in the fitness industry moving towards a functional fitness environment and a really flexible fitness space. We wanted to maintain a premium on open spaces within the gym floor and still have some of those essential pieces of equipment. We knew that a lot of our young population – college students and young families – wanted a workout environment where they could lift weights and do some of those High Intensity Interval Training sessions that are really popular. And so, Mike helped pair us with some great flooring and space solutions and the equipment solutions that would allow for those things to happen here."
The aforementioned Mike is Advanced Exercise's Mike McNeese, a fitness design consultant with more than 22 years of experience designing and equipping fitness and recreation spaces for clients of all types. Merrill and his team knew what they wanted to accomplish but didn't know how to get there.
Merrill acknowledges that "Mike provided a lot of insight. He and his team have experience in this exact type of facility – part turf, part open functional space with an emphasis on plate and Olympic lifting. He was able to show us some of the previous projects he's done, and help us get from an idea into the actual Xs and Os of how to design the space, how to use the floor, which pieces of equipment we should build around. Initially we had a very different design, something that was very wall-heavy, and instead he helped put us in touch with the rig that's behind us now – that we could have a centerpiece in the middle of the floor and maintain a lot of open space and use our walls for other things, maximizing efficiency and getting a lot of equipment in there. We couldn't be happier."
"Working with Bryce and the Provo Recreation Center has been a blast," offered McNeese. "They're an open—minded and creative team who puts the needs of their community first and foremost, making the collaboration particularly successful. The result is unique in a multitude of ways, and competitively they really stand out as a destination. They'll be enjoying the return on this investment for many years to come, and that's the result we were hoping for."
The experience that Advanced Exercise brings to the table is the reason the group was selected to work with the Peaks Ice Arena project, specifically the ability to design a custom solution for the demographics, space, and budget involved. "We have all the tools necessary to provide clients with everything they need, from 1,000 square foot facility to a 30,000 square foot facility, and the experience and the know-how to help them achieve their goals" added McNeese. Anyone who's seen the result would say that you also need to care about the details and making the experience for the end-user as accessible and compelling as possible. Again, all the boxes got checked.
Future-proofing the facility was also a key consideration, as nothing in the fitness and recreation space stays stagnant. Incorporating new technologies, trends and options is yet another priority to keep in mind.
Though he's thrilled with the current result, Merrill is already looking ahead: "I think we've been able to design it in a way that we will be able to add equipment, or change equipment out, relatively easily and try to stay with the trends of fitness for a while."
"We wanted to look at our business viability and our long-term plan with a facility like this. Adding the functional fitness space here at the field house has allowed us to stay competitive in a market that is, frankly, constantly changing. We had some new players enter the market this last year, and we wanted to make sure we retained a lot of our patrons, and this space has really helped to do that. In a year where, again, multiple facilities in our city and our county have opened up, we've actually grown our customer base, especially in our most important demographics. In a year where many would have told us that we should brace for significant losses we've grown and have been able to maintain and even increase our 25,000 community member base."
The Advanced Exercise team stands at the ready to help engage your community in creative and new fitness and recreation experiences, no matter the size of the project or the challenges involved. With strong expertise in designing and equipping fitness spaces for any and all interests, Advanced Exercise consultants can help identify, clarify and create those exceptional community qualities that set your offerings apart from the crowd.
About Advanced Exercise
Founded in 1986, Advanced Exercise is a leading fitness equipment and facility design resource, combining more than 30 years of design expertise with access to top fitness, wellness and recreation equipment brands to help clients create fitness experiences specific to the needs of their distinct communities. Advanced Exercise fitness consultants work with clients to maximize the use of available space in any facility, sourcing the best new or used equipment solutions for diverse ranges of fitness amenity end users. For more information on fitness equipment and facility design services, visit www.advancedexercise.com or call 800-520-1112 to connect with one of Advanced Exercise's experts.