With spring sports well underway and summer right around the corner, fitness needs and interest are in full swing in schools, rec centers and fitness facilities all across the country.
Weight rooms, fitness centers, recreation facilities and gymnasiums are hosting legions of athletes and fitness participants, all looking for the latest equipment and training tips to maximize their workouts. Fitness facility managers, coaches and athletic directors are faced with the challenge of meeting those needs, while keeping facilities and equipment current and compelling, often on very limited budgets.
There are three key areas of opportunity to update fitness and athletic facilities this spring that you don't want to miss, especially if budgets are tight.
1. Put Safety First
Any facility that has exercise/weight room equipment that is heavily used by students, patrons, or other community members needs to be aware of any equipment that's in need of repair or replacement. "On top of many coaches' end-of-year to-do list is to check over all of the equipment to see what needs to be repaired or replaced over the summer break," said Rick Moser, one of the fitness design consultants at Advanced Exercise. "Durability is key for equipment that is heavily used, and fraying cables and pulleys that are wearing down are critical issues." Flooring and upholstery needs to be checked too, as rips or unsecured items can be hazards too.
Safety hazards can cost a facility far more than the investment in fixing or replacing items. Often times, fitness equipment experts like the team at Advanced Exercise can conduct a safety audit for little to no expense, as they have the resources to help fix and replace any unsafe equipment that the walk through may expose. Walking through your fitness space with an expert can also ensure that your facility is complying with ADA accessibility standards, including proper space around equipment and other details that are often overlooked.
2. Stock up during second quarter
The fitness high season that begins with New Year's Resolutions is over by now, and it's a good time for deals to be had on demo items, previous-year models of proven premium equipment, or overstock items that need to get out of the warehouse. As spring sports create lots of traffic in school weight rooms, gymnasiums and rec centers, equipment is in high circulation. "Bumpers, bars and other fitness pieces, like car tires, wear down with heavy use over prolonged periods of time," offered Rick Barbee, regional sales Vice President with Advanced Exercise. "Thousands of hours of use; lifting, dropping and shifting thousands of pounds, it all takes its toll, and schools especially want to get a punch list of equipment needs handled before the school year is out and everyone scatters for the summer."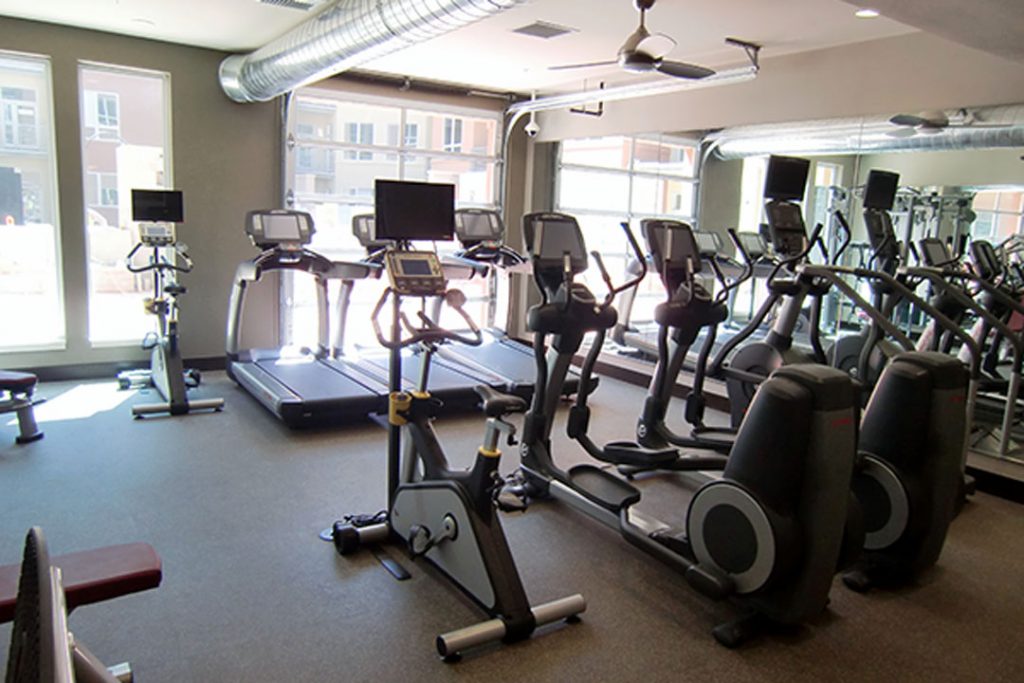 It just so happens that the timing for restocking is now. Equipment companies are phasing out previous-year models of equipment, demo units that were out in circulation during Q1 are back in with only a few weeks of use, and unsold overstock are all crowding warehouse space, and companies are eager to clear it out to make room for new options to come in. Working with a fitness design and equipment partner like Advanced Exercise can be beneficial when their "spring cleaning" inventory reduction offers come out. Across their 30+ partnerships with manufacturers, Advanced Exercise has access to a wide variety of different types of fitness equipment, accessories, and demo units that can be purchased after only a few weeks of use for significantly lower than MSRP. Offering 40 to 65 percent off of equipment is a typical discount range, and if you can get that price break off of product from top fitness and wellness manufacturers, it can mean tremendous savings. Warehouse sales and inventory reduction promotions create a valuable opportunity for schools, rec centers or any other fitness facility looking to restock this time of year.
"A 40, 50 or 60 percent price break on key pieces of equipment can make a big difference in a coach's or rec director's budget, expanding their options for what they can add to support the growing athletic and training programs for their local communities," added Barbee. "One of the most important parts of our job is to help clients use their fitness budget dollars as strategically as possible, and if the right options can become available at a discount, we're happy to help make those great equipment savings available."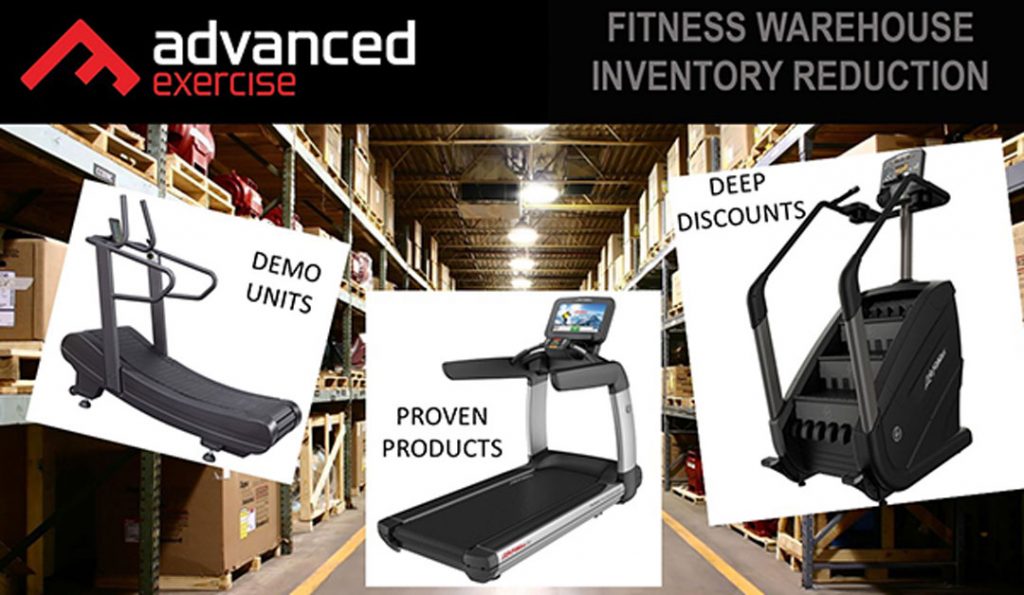 For facilities who are interested in the highest quality products for reduced costs, consider the "proven past" where fitness equipment is concerned. Many of the most sought-after products can be had for far less than their list price if you're willing to consider a previous-year model. Like automobiles, previous-year models with a proven track record of excellence are still top-performing equipment pieces, though they've been boxed up for longer than current-year options.
The same logic holds true for demo units that have been lent out to locations for a short period of time, and then returned. Demo units have been "gently used" and are usually the newest iteration of innovative, popular products that are used as teasers to have customers try the equipment, fall in love with it, and then purchase based on that short trial period. After demo units are returned, they are sold as used equipment. Advanced Exercise, for example, has dozens of demo units included in its upcoming Q2 promotion, including the Sprint Runner (a hugely popular non-motorized treadmill), massage chairs, ellipticals, bikes and other sought-after equipment pieces that clients wanted to "try before they buy". If you're on the receiving end of a demo unit deal, you can expect to cut the MSRP roughly in half for only a few weeks of use.
Sale prices don't usually include freight, so it's also a good idea to buy locally if possible. Inventory reductions from local warehouses can help you stock up on equipment deals and save on freight and delivery costs at the same time. Advanced Exercise's Q2 promotion, which will be announced next week, is designed to reduce inventory out of its 12 warehouses across the country, encouraging local patrons to restock through local deals. Anyone can purchase the items on sale from any warehouse, but purchasers should be aware that shipping weights can be an expense.
3. Tap into leading resources, virtually if you can
Virtual fitness training has really taken off, as digital assets allow for fitness trainers to come along with you on whatever portable screen you choose. At this point, virtual fitness programming is pervasive in almost any fitness facility you visit. However, virtual access to training resources doesn't guarantee the quality of those resources.
When a top-quality resource like Hammer Strength offers a virtual training program, you don't have to worry that the content is of the highest quality possible. Hammer Strength made the decision in 2019 to make it's popular Hammer Strength Clinic available via video streaming, as it's only hosting one clinic in Atlanta on April 26, versus hosting numerous regional clinics across the country. As budgets tighten, regional participation at the Hammer Strength Clinic has been limited to those who have the resources to travel to the clinic to participate in the training in person. In 2019, for the first time, Hammer Strength is offering its world-class training clinic via live streaming, so that coaches and athletic trainers from any location can participate and earn CEU credits, while adding the most current strength training expertise from the top name in the sector to their program knowledge base.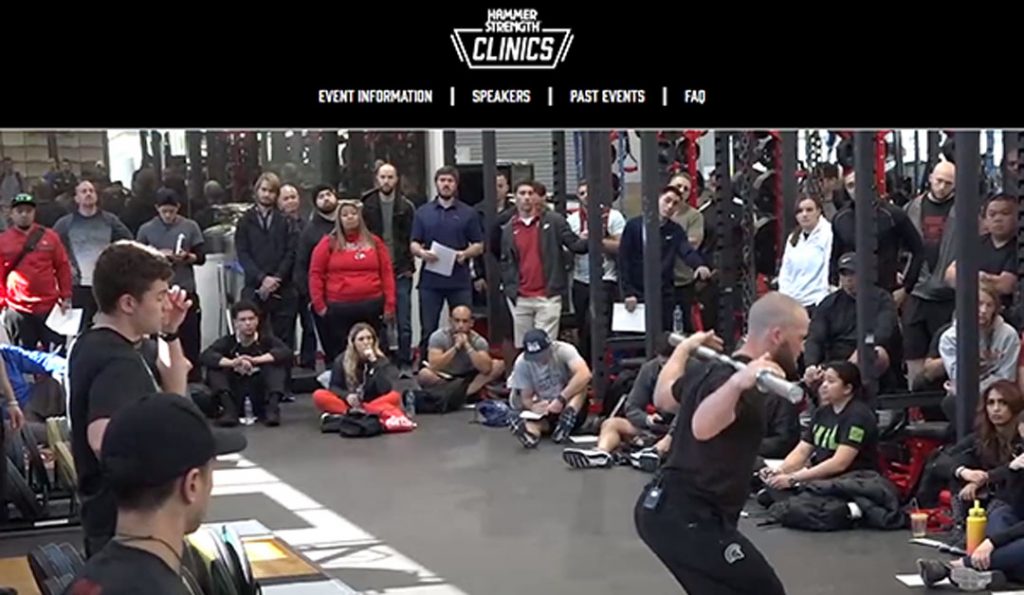 Coaches can register for the Hammer Strength live streaming event and bring the world-class training clinic right into their local weight room, for a minimal registration fee. Being able to save the budget dollars to travel to the clinic, yet having access to the knowledge and content, can be another budget-stretching opportunity for local trainers who work with athletes at any and all levels.
To find out more about the Advanced Exercise Q2 Warehouse Inventory promotion, or to explore additional fitness equipment needs for your program, contact your Advanced Exercise fitness design consultant. The Advanced Exercise team stands at the ready to help outfit fitness options for any budget range for fitness facilities of all types. With strong expertise in designing and equipping fitness spaces for any and all interests, Advanced Exercise consultants are dedicated to helping strengthen fitness-inclusive communities all over the country.
About Advanced Exercise
Founded in 1986, Advanced Exercise is a leading fitness equipment and facility design resource, combining more than 30 years of design expertise with access to top fitness, wellness and recreation equipment brands to help clients create fitness experiences specific to the needs of their distinct communities. Advanced Exercise fitness consultants work with clients to maximize the use of available space in any facility, sourcing the best new or used equipment solutions for diverse ranges of fitness amenity end users. For more information on fitness equipment and facility design services, visit www.advancedexercise.com or call 800-520-1112 to connect with one of Advanced Exercise's experts.