Outdoor Fitness isn't just a general term for playgrounds and walking paths, not anymore. It's the new group exercise space complete with equipment, a year-round community fitness area that doesn't need electricity or staff, is not constrained by walls, and is the hottest trend in fitness right now.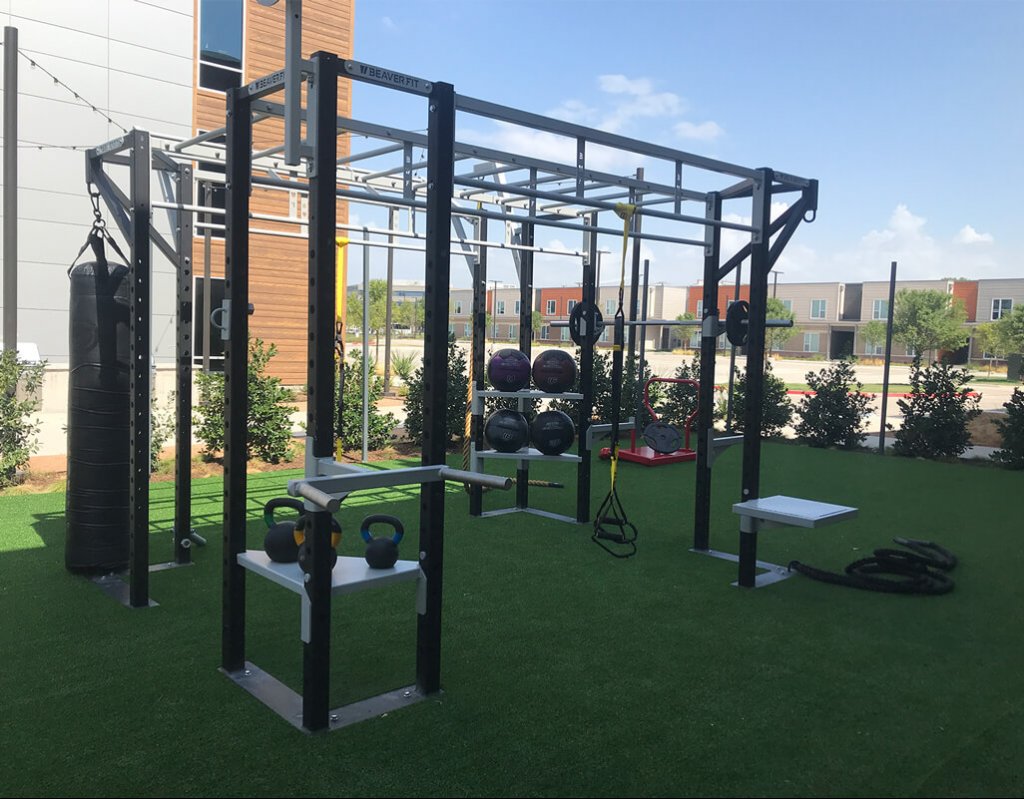 Not Child's Play
One of the newest innovations in fitness, taking fitness equipment outdoors and creating new workout spaces with the benefit of the natural elements as a backdrop, is booming, but not for the reasons you might think. Communities who lack indoor space can use small outdoor areas as their fitness center, and it's rejuvenating formerly underused landscape areas to great advantage. However, this isn't to be confused with a playground.
Outdoor Fitness spaces attract a wide demographic, from younger obstacle-course racing millennials who love to train rain-or-shine, to more mature audiences who love the benefits of the outdoors as a welcome change to their fitness routine. "We're seeing campuses and communities all over the country embrace the outdoors as an extended fitness opportunity for their communities," said Bruce Schlagel, vice president of sales at fitness equipment and design firm Advanced Exercise. "Market leaders like BeaverFit are creating outdoor equipment options that take functional fitness options to levels that indoor equipment just can't reach, re-interpreting what an outdoor gym can be. Functional fitness and boot camp experts love the new interpretations of fitness equipment that are emerging in Outdoor Fitness. It's great to see outdoor options becoming so popular, as compelling community amenities."
Industry pundits agree that "The installation of a fitness zone infuses new energy into a run-down park area, but it's also an excellent addition to a new facility, because it makes the facility appeal to a broader demographic."
At the University of Nebraska, the new BeaverFit outdoor fitness area is a huge hit.

Choose Equipment Wisely
Research shows that exercising outdoors carries with it a number of health benefits that indoor fitness routines can't replicate, prompting facility managers to extend their fitness centers, equipment and all, into the "no wall" outdoors. However, it's a different situation when you have to choose what equipment to use, and how.
Unlike an indoor fitness facility and its variety of cardio, strength and functional equipment options, outdoor areas are usually limited to a few, well-chosen, pieces of equipment (between six to 20 pieces on average). "Making the right choices on what equipment is in the space can be the difference between a good workout and just having equipment"
"That's where we come in," continued Schlagel. "Fitness design consultants like the team at Advanced Exercise know the equipment, what it's capable of and the audiences who use it. We're seeing interest grow considerably in the area of Outdoor Fitness and, though the dynamics of designing an outdoor fitness space are different from an indoor environment, we work with each client to choose the right type and layout, and even the ground surface, to make their Outdoor Fitness spaces compelling attractions for residents."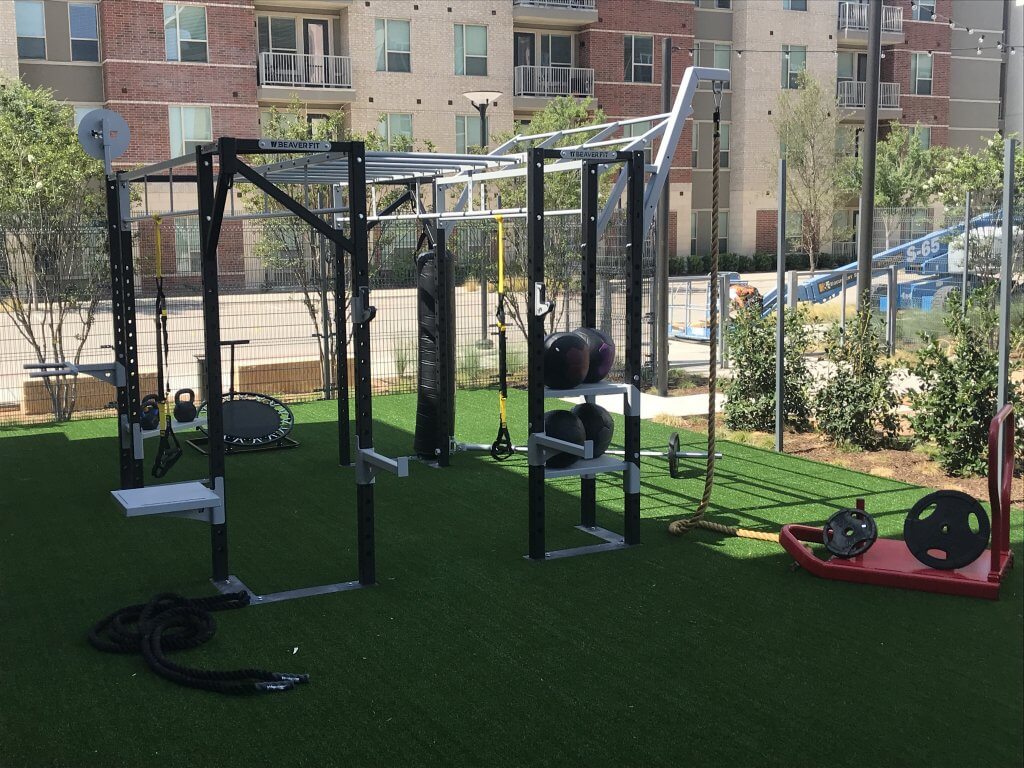 An obvious development is the durability of the equipment and the advancement of weather-resistant materials to encourage year-round workouts, regardless of what Mother Nature has in mind. "An added bonus for obstacle course enthusiasts or boot camp participants: more people than you think like to work out in the elements (i.e. mud, rain, etc.) to really test themselves!"
Going Outside is Here to Stay
Interest in Outdoor Fitness options started as a trend in many areas of the world for many reasons, but the elements included in creating an Outdoor Fitness center that is customized to your community has advanced so far in recent years that its impact is undeniable and seemingly everlasting. "While the first outdoor gyms primarily offered pull-up bars and other static elements, the most recent equipment now also focus on improving flexibility, balance or strengthen cardiovascular health."
With fitness amenities topping the list of "must-haves" for the communities where we all live and work, property managers are now looking at available green spaces in a new light. Maybe those flower beds can make way for an outdoor challenge course?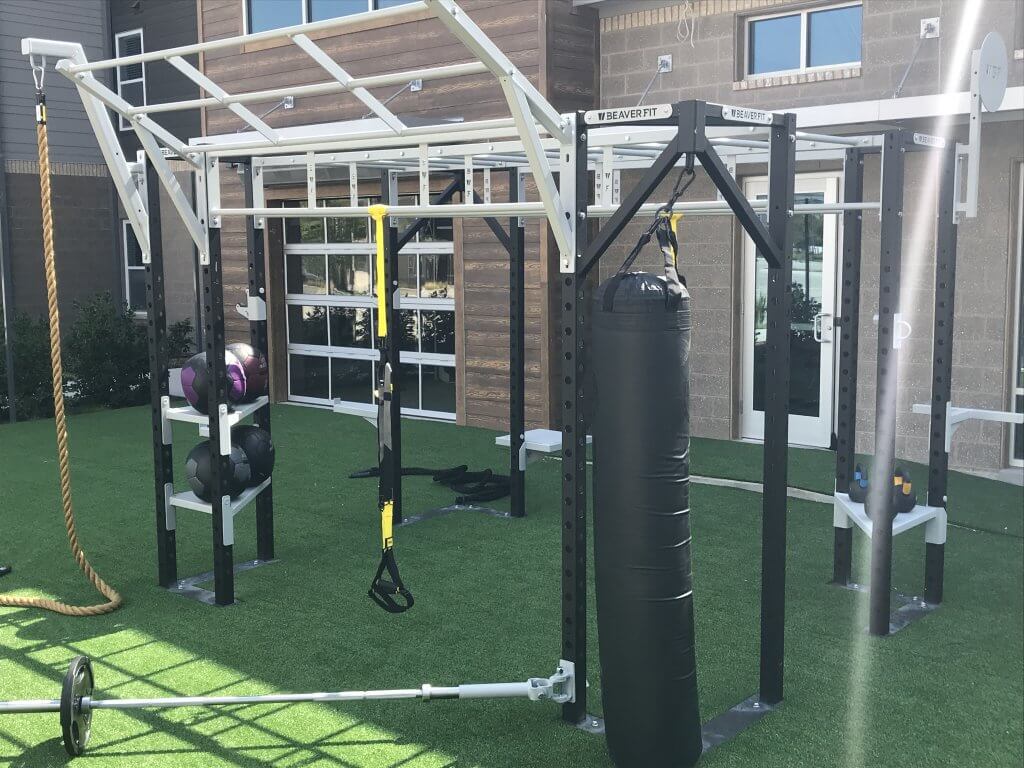 With fitness facilities being a key amenity to attracting tenants in the hospitality, multi-family and student housing markets, competitive-minded developers of multi-family living communities, multi-unit offices, hotels and even country clubs are adding outdoor gyms that give them a leg up on the competition (and a fascinating new asset to attract community interest and continual participation).
The capital expenditure for outdoor fitness equipment can be a fraction of what an indoor fitness center options cost, but that doesn't mean that planning and expertise isn't needed to create an Outdoor Fitness space. The Advanced Exercise team stands at the ready to help you with any outdoor (or indoor) options for fitness facilities of all types, no matter the budget or space constraints involved. With strong expertise in designing and equipping fitness spaces for any and all interests, Advanced Exercise consultants can help identify, clarify and create those exceptional community qualities that set your offerings apart from the crowd.
About Advanced Exercise
Founded in 1986, Advanced Exercise is a leading fitness equipment and facility design resource, combining more than 30 years of design expertise with access to top fitness, wellness and recreation equipment brands to help clients create fitness experiences specific to the needs of their distinct communities. Advanced Exercise fitness consultants work with clients to maximize the use of available space in any facility, sourcing the best new or used equipment solutions for diverse ranges of fitness amenity end users. For more information on fitness equipment and facility design services, visit advancedexercise.com or call 800-520-1112 to connect with one of Advanced Exercise's experts.