Treadmill fatigue is real and after a year or more of self-quarantine, and the ongoing threat of Coronavirus transmission, getting outside is VERY welcome. While the pandemic accelerated nationwide awareness of fitness alternatives, it has also given way to an outdoor fitness boon.

Communities with unused or under-used open space have found opportunity (and many satisfied compliments) in creating outdoor fitness spaces for all types of fitness activities.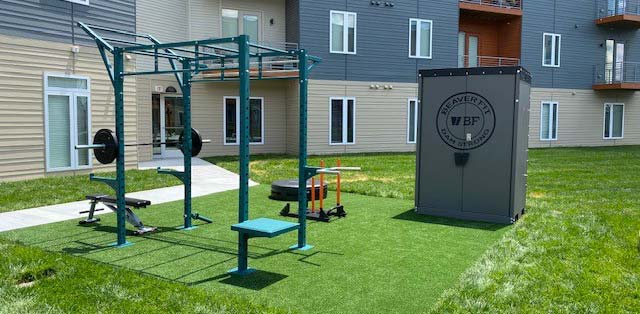 People have decided to stick with the outdoor fitness trend because they've experienced the benefits that outdoor exercise can bring. Outdoor exercise can:

Reduce stress, anger and depression

Improve self-esteem with less fear of judgement

Improve quality of sleep

Increase intake of vitamin D, fresh air and outdoor light which invigorates and provides more energy for the mind and body

Lower blood pressure and heart rate

Provide more variation to challenge your body in new ways.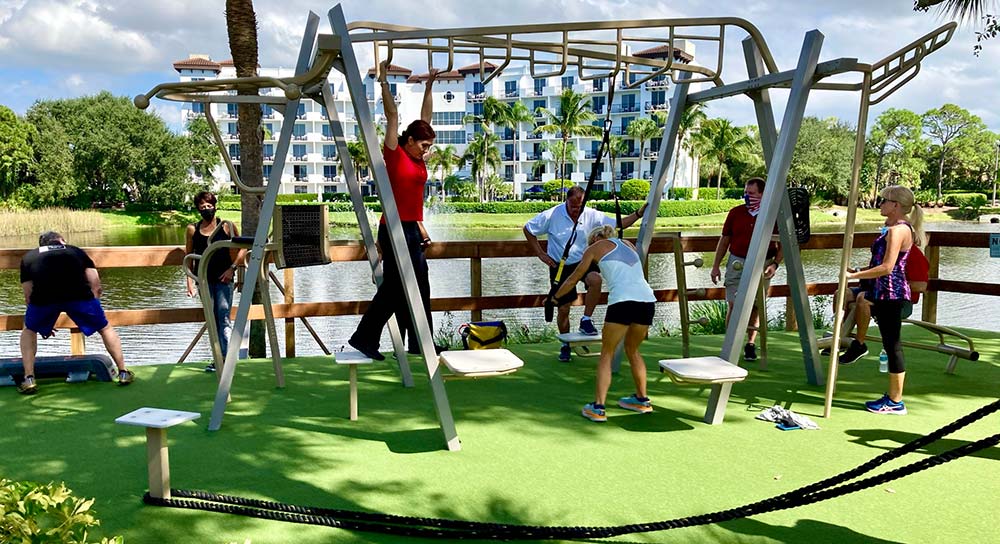 One study from the American Chemical Society, which involved a systematic review of a number of smaller studies, found that exercising in a natural environment "was associated with greater feelings of revitalization and positive engagement; decreases in tension, confusion, anger and depression; and increased energy." The study also found that those who exercised outdoors "reported greater enjoyment and satisfaction with outdoor activity and declared a greater intent to repeat the activity at a later date."

On top of the obvious health benefits, outdoor fitness and gym options are increasingly popular for a variety of reasons.

Outdoor fitness "gyms" can be created pretty much anywhere there is a bit of unused or under-used space. From campuses and rec centers that have extra room around the track, to open greenbelts in multi-family communities, outdoor fitness options abound.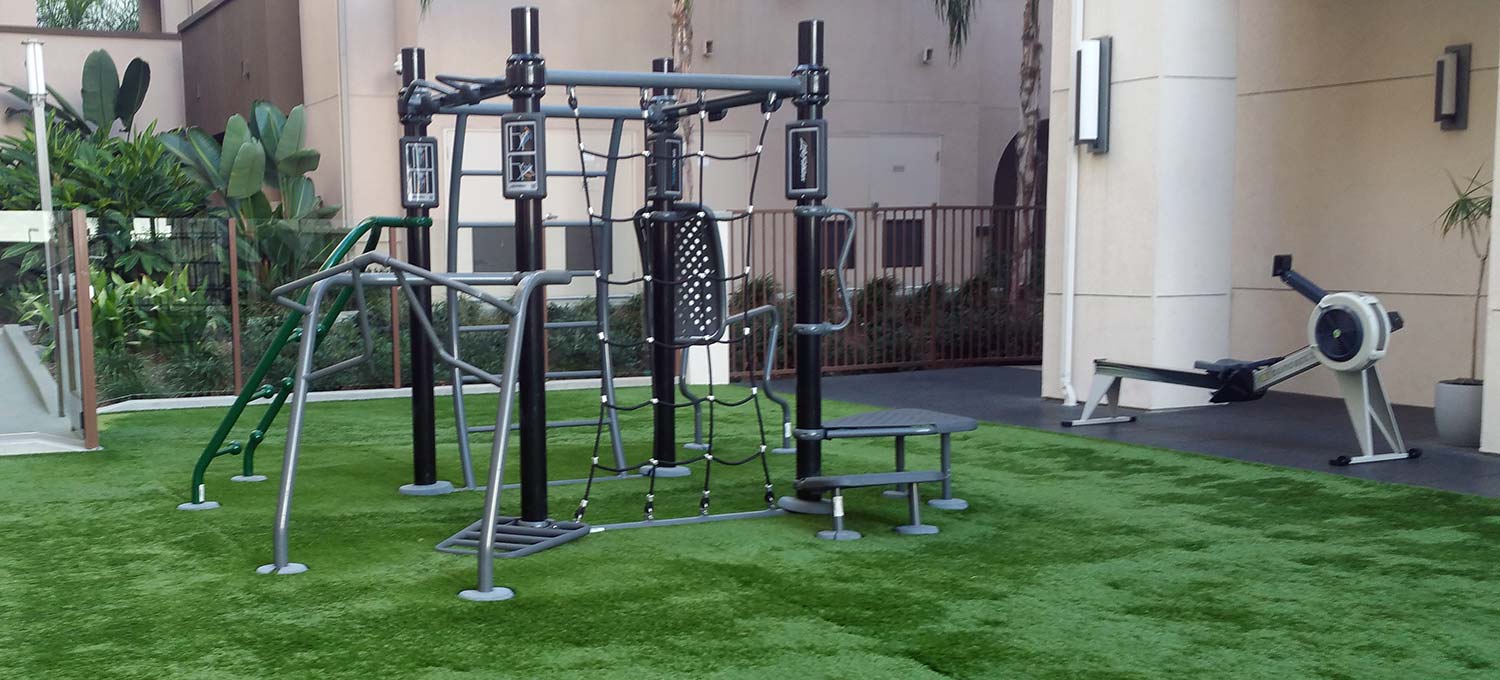 "Fitness amenities, especially outdoor options, are the new 'must-haves' for all sorts of communities where we work and play," said Bruce Schlagel, Advanced Exercise's VP of Commercial Sales. "Property managers are looking at all available spaces in a new light and rethinking how they might be able to use them. The right outdoor fitness configuration can include anything from adding fitness equipment alongside walking trails or outdoor common areas, to fully functional outdoor training options and even Olympic training solutions. There are many creative ways that clients can expand their fitness options with minimal space outdoors."

Custom designs for outdoor spaces can include a wide variety of all-weather equipment and storage options. "Our experts can help design an outdoor fitness option that fits whatever space you have available," added Schlagel. "We can help you envision the outcome using 2D and 3D layouts, and our install teams are often involved from the ground, or more appropriately the turf, on up, to create the optimum outdoor fitness amenity."


Fitness facilities are a key amenity to attracting tenants in student housing markets, multi-family living communities, multi-unit offices, hotels and hospitality destinations and even country clubs. Innovative outdoor gym options can give communities and campuses a leg up on the competition and are becoming a top priority for communities that want to break free of indoor limitations, keeping residents engaged, healthy and happy in a ceiling-free space.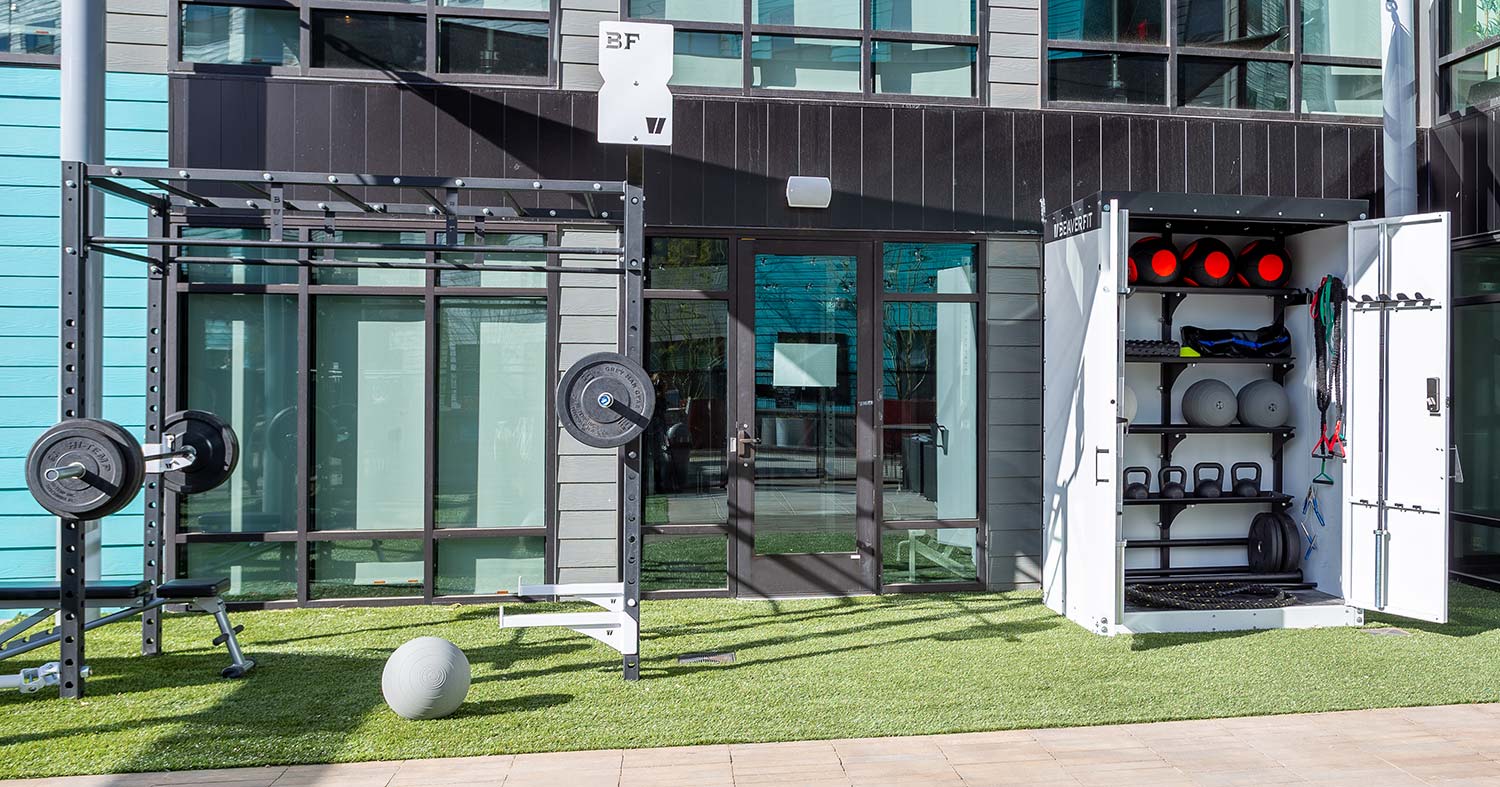 Outdoor exercise areas also answer the new dilemma of social distancing. For facilities who may be space-constrained with indoor layouts, the outdoors provides a whole new world of exercise options.

Plus, with fewer restrictions, outdoor areas offer a break in routine and a safer, more innovative way to keep active. Exercising outdoors can often increase motivation and is a great way to build community interest and boost participation levels year-round.

"With the effects of COVID continuing to linger long-term, the importance of a dedicated outdoor fitness option for multi-family communities especially, where indoor spaces might be more crowded, has never been more important," said Jeff Paxton, an experienced fitness design consultant for Advanced Exercise. "We are working on a number of innovative outdoor projects that are ideal for keeping residents involved and having fun while getting into shape."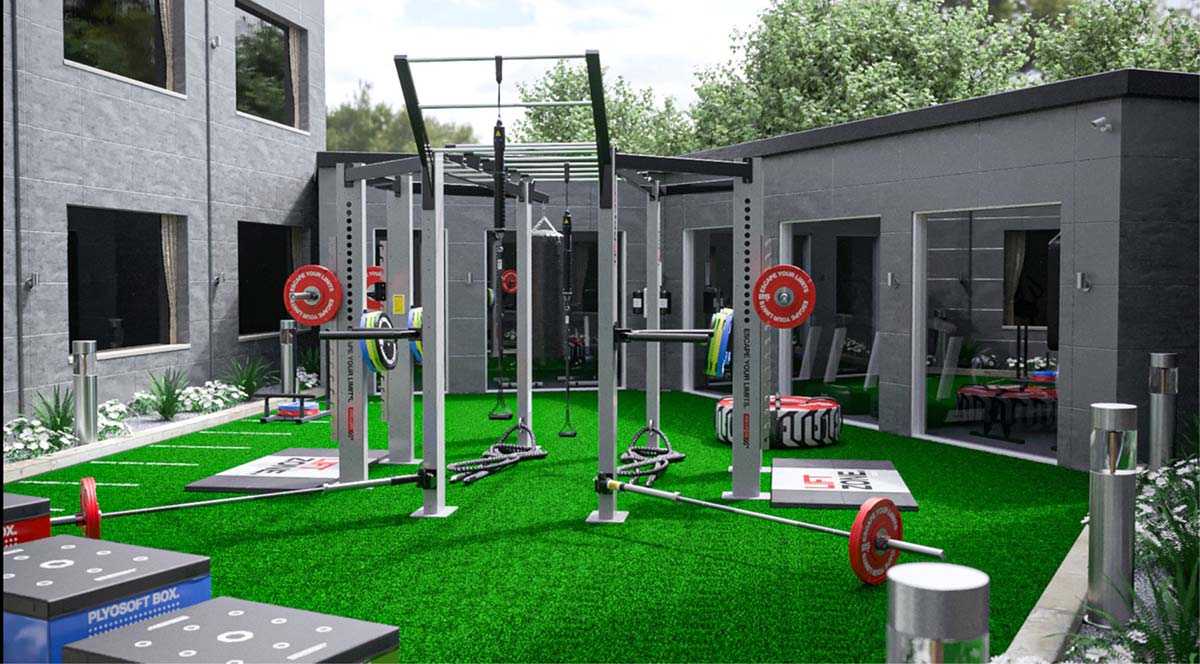 Using flexible design options and galvanized all-weather materials to build outdoor fitness infrastructure, all sorts of new choices are available to replicate equipment that would usually be found indoors. For instance, outdoor facilities can provide the movements and functions of indoor cardio machines by using equipment that works for different types of weather conditions, so their users can perform the same exercises with an open-air change in scenery.

Worried about the elements? Outdoor equipment options can easily withstand punishing weather. For locations with severe weather swings, shades or canopies can be used to stay out of the sun or provide cover for a downpour.

Today's outdoor fitness options include weatherproof racks, rigs, weightlifting stations, convertible "Shred Sheds" that are outdoor gym and storage combined, and accessories that can stand up to the elements for year-round enjoyment.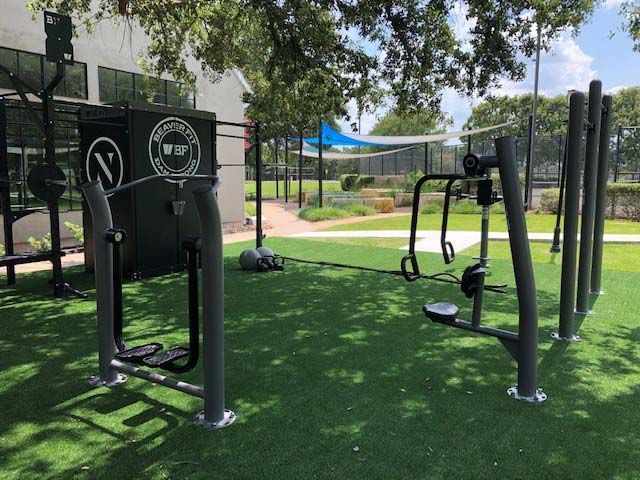 Turf or rubber performance surface options are also much more versatile than they used to be – coming in a wide variety of colors and thickness options. Many are anti-microbial and easy-to-clean, and some are even recyclable. And most importantly, they act as energy absorption and help prevent injury.

The capital expenditure for outdoor fitness equipment can be a fraction of what an indoor fitness center options cost, but that doesn't mean that planning and expertise isn't needed to create an outdoor fitness space. "Designing and creating an outdoor fitness area requires particular expertise to make sure that the investment matches what each community needs," adds Schlagel. "Outdoor fitness equipment options are no longer limited to pull-up bars and other static elements. They now focus on whole health, improving flexibility and balance, or strengthening cardiovascular health. There are options for all ages and fitness levels."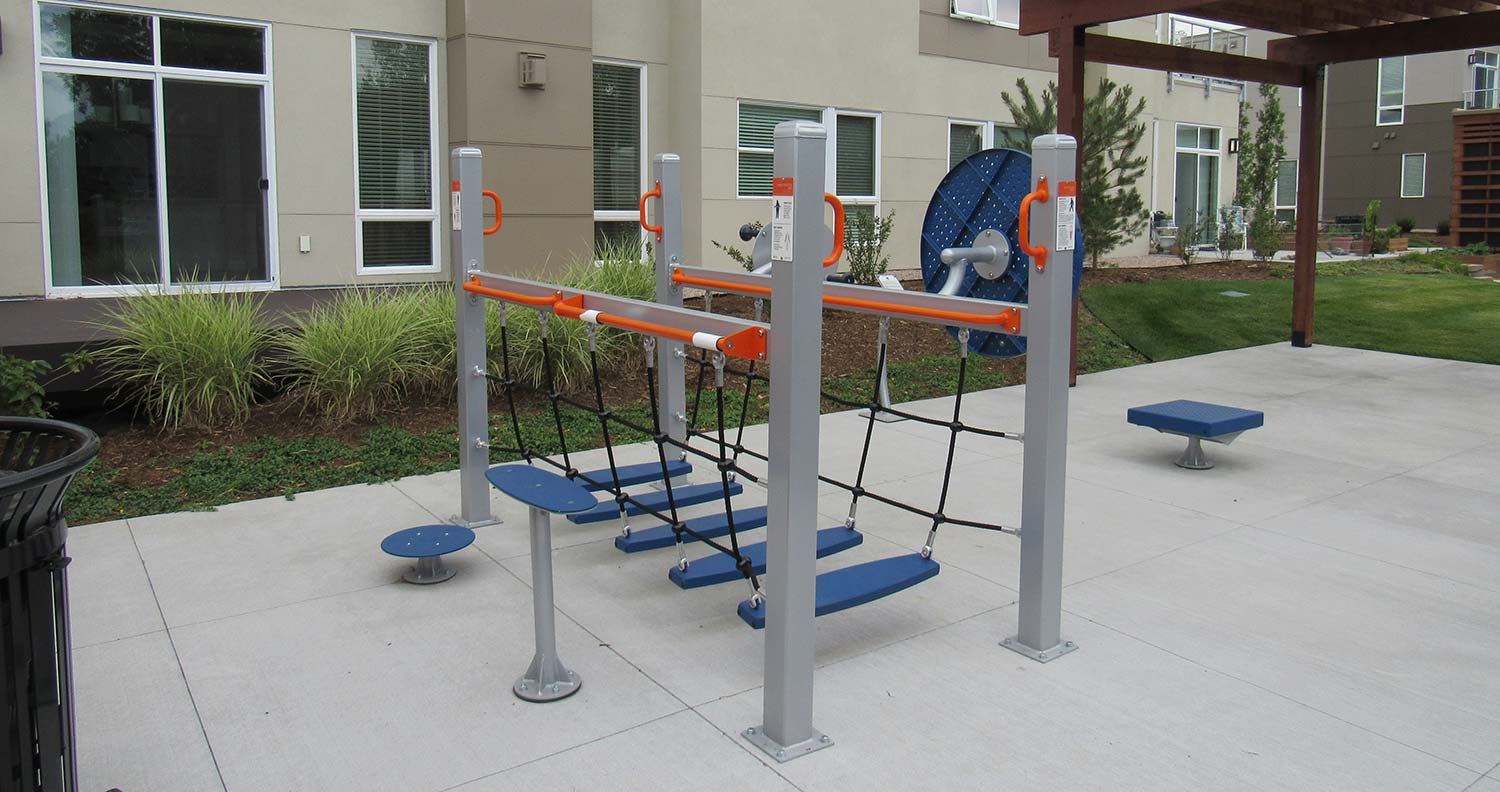 The Advanced Exercise team stands at the ready to help you with any outdoor (or indoor) options for fitness facilities of all types, no matter the budget or space constraints involved. With strong expertise in designing and equipping fitness spaces for any and all interests, Advanced Exercise consultants can help identify, clarify and create those exceptional community qualities that set your offerings apart from the crowd.

About Advanced Exercise
Founded in 1986, Advanced Exercise is a leading fitness equipment and facility design resource, combining more than 30 years of design expertise with access to top fitness, wellness and recreation equipment brands to help clients create fitness experiences specific to the needs of their distinct communities. Advanced Exercise fitness consultants work with clients to maximize the use of available space in any facility, sourcing the best new or used equipment solutions for diverse ranges of fitness amenity end users. For more information on fitness equipment and facility design services, visit www.advancedexercise.com or call 800-520-1112 to connect with one of Advanced Exercise's experts.